DHI Plus Gold Hair Transplantation In Turkey
at the Queen Clinic in Istanbul leading dental specialists.
Leadership Assessed
Outstanding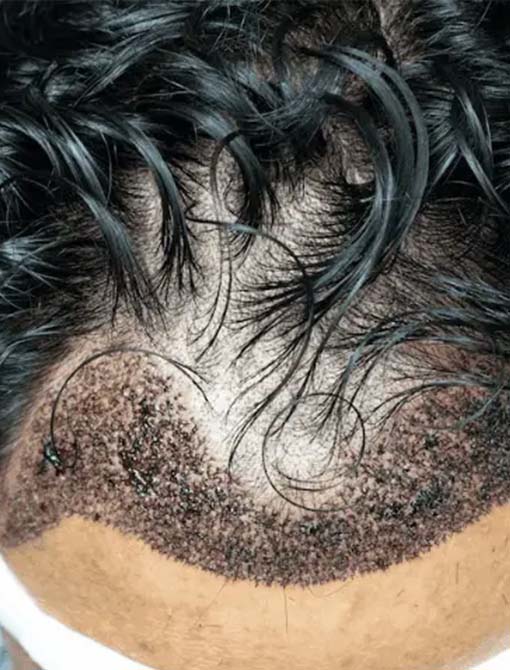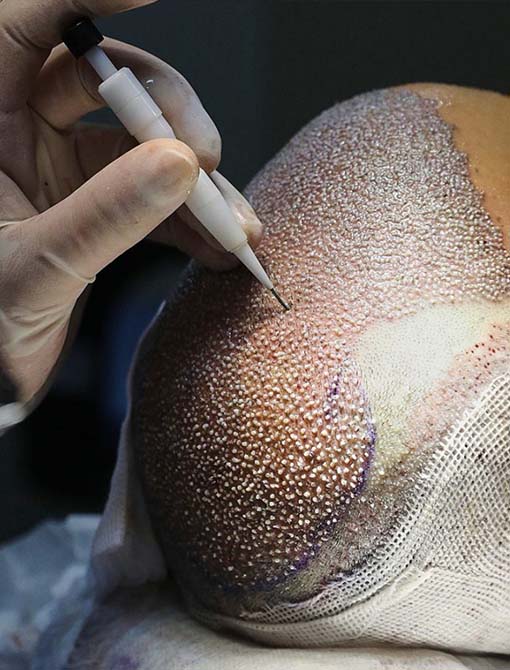 Leadership rated
Outstanding
Surprising results
I had an abdominoplasty 3 months ago and I am very satisfied with the results. I had a lot of flabby skin and stretch marks from pregnancy and childbirth, and the abdominoplasty removed all that and gave me a flat, toned abdomen. I feel much more confident about my body now.
Hortensia Vaccarino, 20 hours ago
I am very happy
I am very happy to share my experience at Queen Clinic in Istanbul. I came from Italy to undergo liposuction and could not be more satisfied with the results.
Olga Torelli, 4 days ago
Very satisfied with the results
I had dental implants 6 months ago and I am very satisfied with the results. I had lost some teeth due to gum disease, and the dental implants restored my smile. I feel much more confident now when I smile.
Gerardo Auletta, 6 days ago
I am more confident
I am very satisfied with the results of my hair transplant. I had been losing my hair for many years and it was starting to affect my self-esteem. I did some research and found a trusted surgeon who performed the procedure. The procedure was quick and painless, and recovery was relatively easy.
Aquilino Presti, 9 days ago
Rated 4.8 / 5 - 361 reviews
Showing our latest reviews
The Latest Technologies
Taking advantage of the most advanced advances, we offer our patients the benefits of cutting-edge diagnoses, treatments and solutions.
Leading Doctors In The Field
We have invited only the best and most experienced consultants and doctors in Turkey to work with us. An unwavering commitment to excellence.
Free Online Consultation
It takes absolutely nothing to get a free online consultation from the best doctors in the world. We have made this process very easy and free for everyone, forever.
Reliable Worldwide
Every year we help more than 4,000 patients from countries such as the United States, Italy, England, France, Germany, Spain, etc. to improve their health and appearance.
DHI Plus Gold Hair Transplant At A Glance
Time Of Operation
6-7 hours
Persistence Of Results
A Lifetime
Sensitivity Time
3-15 Days
Time To Return To Work
3 Days
Anesthesia
Sedation And Local Anesthesia
Before And After DHI Plus Gold Hair Transplant In Turkey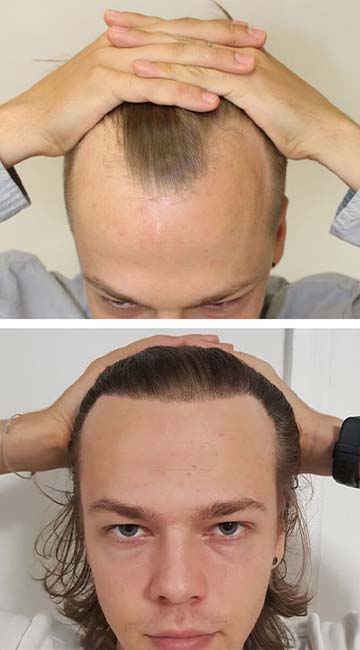 Before
After
Before
DHI Plus Gold Hair Transplant In Turkey - Hair Clinic In Istanbul
The latest and most modern method of hair transplant is called DHI Plus Gold. DHI Plus Gold hair transplantation in Turkey is an advanced hair transplantation technique involving the extraction and direct implantation of individual hair follicles. Turkish researchers spent about a year on research and development that led to the creation of the DHI Plus Gold hair transplant procedure. The DHI Plus Gold hair transplant procedure adds a plus by using gold-tipped needles, which is a huge improvement over the standard DHI hair transplant procedure.
What is a DHI Hair Transplant?
A sophisticated hair transplant method known as DHI (Direct Hair Implantation) entails the direct removal and implantation of individual hair follicles. DHI, in contrast to conventional techniques, does not need the creation of incisions or channels in the recipient region beforehand. Instead, hair follicles are extracted and implanted in one phase using specialized equipment like the Choi pen.
This exact procedure enables results with less scarring and quicker recovery. Our experienced doctors carefully arrange the hairline and carefully carry out the transplanting procedure to carry out DHI hair transplants. Our skilled specialists in Turkey should be consulted to ascertain whether DHI is appropriate for your particular hair loss issue.
What are the advantages of the DHI Plus Gold Hair technique?
The DHI Plus Gold Hair Transplantation in our clinic in Turkey has several benefits over conventional procedures. Among them are:
Reduced Healing Time: Compared to traditional procedures, DHI Plus Gold Hair Transplantation often results in a speedier recovery with less scarring and postoperative discomfort. This is because there are no incisions or sutures used during the procedure.
Realistic Hairline Design: The DHI process enables careful and exact hairline design, resulting in a natural and attractive outcome that enhances the person's facial features.
Minimized Risk of Harm: DHI Plus Gold uses specific instruments and procedures to lower the risk of harm to the hair follicles during extraction and implantation, increasing the likelihood that the grafts will survive.
Surgeons with experience: Turkey is known for having a wealth of knowledge when it comes to hair transplantation, and our clinic has some of the greatest surgeons who are experts in DHI Plus Gold Hair Transplantation.
Who is Eligible for DHI Hair Transplant?
Anyone who wishes to have a hair transplant is eligible for a DHI hair transplant. Patients who want to undergo transplantation without shaving should first think about the DHI method. Other hair transplantation techniques allow for the use of more grafts.
When deciding whether to have DHI in this situation, the patient should take into account how many grafts are necessary, and the choice should be made with the surgeon doing the treatment. The most crucial step before deciding on your hair transplant type is to select a clinic that will treat you well and stick by you even after the procedure.
Who Needs a DHI Procedure?
The DHI (Direct Hair Implantation) procedure can be suitable for individuals who are experiencing hair loss or baldness and are looking for a long-term solution to restore their hair. It can be beneficial for:
1. Male Pattern Baldness: Men with male pattern baldness, characterized by receding hairline or thinning hair on the crown, may benefit from a DHI hair transplant to regain a fuller head of hair.
2. Female Hair Loss: Women experiencing hair thinning or female pattern hair loss can also be candidates for DHI. However, the underlying cause of hair loss should be assessed, as certain conditions may require alternative treatments.
3. Hairline Restoration: Individuals looking to restore their hairline or create a more defined and natural-looking hairline can consider DHI. This technique allows for the precise placement of hair follicles to achieve a desired hairline design.
4. Scar Revision: DHI can be used to camouflage or fill in scars resulting from previous hair transplant procedures or other causes, providing improved aesthetic results.
What Are the Characteristics of the Pins Used in DHI?
In DHI hair transplants, hollow pins with a spring mechanism are used. When squeezed after being stretched, this spring mechanism pushes the tip and enters the skin, leaving the graft within. When thick hair implants were introduced, this pin was originally designed for fine hair.
One of the most frequently used hair transplantation techniques nowadays is DHI. The two primary stages of the hair transplant procedure employing this method are extraction and implantation.
This is the procedure of inserting a chosen tool called an implant into the region to be transplanted together with the grafts obtained by the FUE or FUT extraction technique utilized in previous treatments. This procedure, commonly referred to as the "pen technique," presses each graft into the skin one at a time using a special instrument or pen with a very small tip.
In comparison to other hair transplant procedures, this operation necessitates local anesthetic and greater collaborative effort. The DHI procedure offers advantages for individuals who are concerned about their look after hair transplantation for a variety of reasons, including job, social standing, and others since it allows for the transplantation of hair in the region to be covered with no incisions.
What are the Stages of DHI Plus Gold Hair Transplantation?
In our clinic in Istanbul, the procedure starts with a consultation with a hair transplant specialist. In this phase, the doctor will evaluate your hair loss situation, check the donor and recipient areas, and go through your objectives and goals.
The donor region, which is often the back or sides of the head, is prepped for extraction at this step. To facilitate an easy operation, the hair in the donor region is cut to the proper length, and local anesthetic is given. Individual hair follicles are retrieved from the donor region using specialized equipment, such as the Choi pen, which has a hollow needle. The Choi pen minimizes follicle damage while enabling exact extraction.
Using the same Choi pen, hair follicles are promptly implanted into the recipient location after being retrieved. The hypoallergenic gold tip of the pen lessens tissue stress during the implantation procedure and lowers irritation, increasing the survival percentage of the transplanted hair follicles. Before implantation, the surgeon will carefully plan the hairline, taking into account the patient's goals as well as the patient's facial characteristics and natural hairline patterns. This guarantees a result that is both natural and attractive.
You will be given post-transplantation care instructions after the surgery. This could include instructions on how to take medicine, how to wash your hair, and what to avoid doing or doing that might slow the healing process. You will be given follow-up consultations to track the development of your transplant and guarantee optimal recovery. It's vital to remember that the DHI Plus Gold Hair Transplantation may not produce its maximum potential for several months to a year while the transplanted hair follicles develop and thrive.
PreparationPreparation
You will consult with our surgeons before the procedure. Your hairline will be drawn, the approximate amount of grafts will be calculated, your medical history will be reviewed, and a surgery report will be prepared.Blood is obtained to assess the level and determine if it is appropriate for surgery. following the patient's shaving.
After shaving, the patient is given a local anesthetic with a microneedle so they won't experience any discomfort. In our clinic, unshaven hair transplantation it's also possible. Meanwhile, our patients will be given painkiller medicine to ease their discomfort and prevent allergic responses.
Difference Between DHI and other Hair Transplantation methods
DHI (Direct Hair Implantation) differs from other hair transplantation techniques owing to its unique qualities and benefits. Direct implantation of individual hair follicles without the need for channels or incisions is one significant distinction. This results in a more accurate and effective operation since hair follicles are removed during the surgery and then promptly transplanted into the recipient region.
DHI stands out for its control and accuracy. The surgeon may precisely position and position each hair follicle using sophisticated instruments like the Choi pen, resulting in a natural-looking result. When developing and producing a personalized hairline that enhances the patient's facial characteristics, this level of accuracy is very crucial.
The DHI procedure's least invasiveness is another important feature. DHI does not need to make incisions or apply sutures, unlike conventional procedures like Follicular Unit Transplantation (FUT) or Follicular Unit Extraction (FUE). As a result, recovery is often quicker, pain is decreased, and scarring is greatly diminished.
Another aspect that distinguishes DHI is the employment of specific equipment, such as the Choi pen with a gold tip. The pen's gold tip lessens tissue stress during implantation, increasing the survival percentage of the transplanted hair follicles. Long-term outcomes and better hair growth may arise from this.
Furthermore, DHI lessens damage to the donor location. Its direct implantation method is less invasive than methods like FUT, which include the excision of a strip of scalp, or FUE, which necessitate the extraction of each follicle individually using a punch tool. This may result in less obvious scarring and quicker healing of the donor location.
What are the Advantages of DHI Plus Gold Hair Transplant in Turkey?
By simultaneously opening the channel and inserting the hair follicles, the gathered hair follicles enable implantation in DHI hair transplantation without the need for long waiting periods. The loss of grafts kept in a specific solution is reduced during DHI hair transplantation. One of the advantages is that it enables more frequent planting and a more natural appearance.
The gold-tipped needle used in DHI hair transplantation reduces the time the roots have to wait after the procedure. As a result, the DHI hair transplantation treatment for roots reduces the risk of hair loss. The possibility of tissue injury and allergic responses is reduced with the use of the gold tip. Hair already in place is undamaged. Patients who have a DHI Plus Gold hair transplant recover quickly.
Surgical Postoperative Care
After surgery, our specialists will demonstrate the postoperative procedure to help you get the best outcome. Washing procedures, treatment hints, and advice for adjusting to everyday life after surgery. We will do your initial washing in our clinic before your departure to the airport. From the day of surgery for a week, you will be prescribed a variety of drugs. Following surgery, a special foam spray is used to smooth the transplanted region, and shampoo is used to wash the head for seven days. Moreover, a unique neck cushion to shield the head from dust is provided by us.
Why should you choose our clinic?
In terms of DHI hair transplantation, our clinic in the center of Istanbul stands out as the top choice for individuals looking for unmatched experience, cutting-edge technology, a tailored approach, patient-centric care, and remarkable outcomes. With the help of cutting-edge equipment and our experienced surgeons, who specialize in DHI operations, we can guarantee effective and exact care.
We put your demands first and collaborate closely with you to design a hairline that complements your distinctive characteristics. To ensure your comfort and happiness during your journey, our devoted team is committed to providing the finest quality of care. The testimonies of the countless happy patients who trusted us with their DHI hair transplant say volumes about our dedication to perfection.
Choose our clinic for your DHI hair transplantation requirements if you're seeking a facility that combines knowledge, technology, individualized care, and outstanding outcomes. Discover the difference, recover your self-confidence, and find a permanent, natural-looking answer to your hair loss issues. To begin your transforming road to a fuller, more colorful head of hair, get in touch with us right away.
Frequently Asked Questions
Thanks to our specialists and the use of our specialized and modern devices to administer a local anesthetic, the process is painless.
One week before the hair transplant, all blood-flow-inducing medications should be stopped including aspirin, green tea, coffee, cigarettes, and alcohol. You must consume breakfast and put on a top like a button-up shirt the morning prior to the operation.
You can begin mild activity two weeks following the hair transplant. One month after surgery, you may begin physical activity, and at three months, you can begin vigorous exercise like soccer.
The process of graft waste starts two weeks after transplantation. The transplanted hair will begin to grow again in two to three months. Within a year, the outcome becomes apparent.