Arm Lift Surgery In Turkey
at the Queen Clinic in Istanbul leading dental specialists.
Leadership Assessed
Outstanding
Leadership rated
Outstanding
Surprising results
I had an abdominoplasty 3 months ago and I am very satisfied with the results. I had a lot of flabby skin and stretch marks from pregnancy and childbirth, and the abdominoplasty removed all that and gave me a flat, toned abdomen. I feel much more confident about my body now.
Hortensia Vaccarino, 20 hours ago
I am very happy
I am very happy to share my experience at Queen Clinic in Istanbul. I came from Italy to undergo liposuction and could not be more satisfied with the results.
Olga Torelli, 4 days ago
Very satisfied with the results
I had dental implants 6 months ago and I am very satisfied with the results. I had lost some teeth due to gum disease, and the dental implants restored my smile. I feel much more confident now when I smile.
Gerardo Auletta, 6 days ago
I am more confident
I am very satisfied with the results of my hair transplant. I had been losing my hair for many years and it was starting to affect my self-esteem. I did some research and found a trusted surgeon who performed the procedure. The procedure was quick and painless, and recovery was relatively easy.
Aquilino Presti, 9 days ago
Rated 4.8 / 5 - 361 reviews
Showing our latest reviews
The Latest Technologies
Taking advantage of the most advanced advances, we offer our patients the benefits of cutting-edge diagnoses, treatments and solutions.
Leading Doctors In The Field
We have invited only the best and most experienced consultants and doctors in Turkey to work with us. An unwavering commitment to excellence.
Free Online Consultation
It takes absolutely nothing to get a free online consultation from the best doctors in the world. We have made this process very easy and free for everyone, forever.
Reliable Worldwide
Every year we help more than 4,000 patients from countries such as the United States, Italy, England, France, Germany, Spain, etc. to improve their health and appearance.
Arm Lift Surgery At A Glance
Time Of Operation
2 hours
Persistence Of Results
A lifetime
Time To Return To Work
2 weeks
Anesthesia
General Anesthesia
Before And After Arm Lift Surgery In Turkey
Before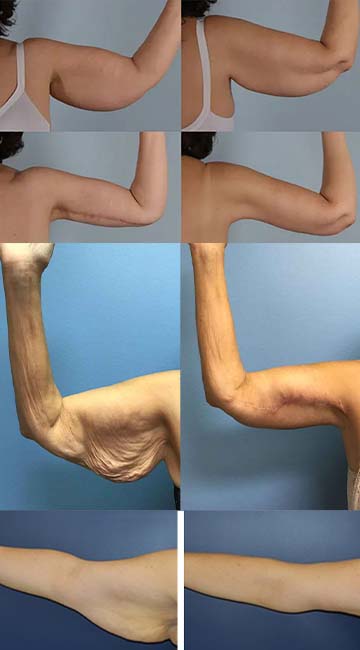 After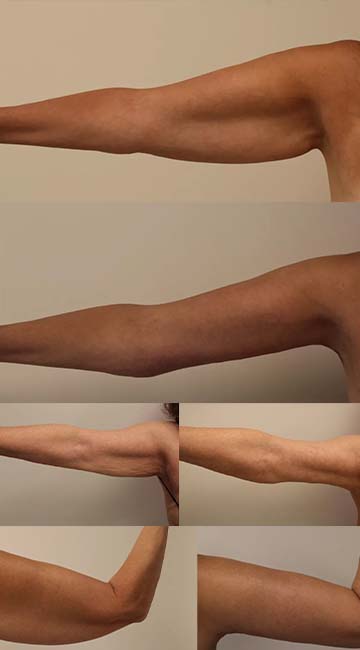 Before
Arm Lift Surgery In Turkey - Brachioplasty In Istanbul
Arm lift surgery in Turkey is what you need if you are not feeling confident in your own skin. At Queen Clinic you will experience the transformation you have always desired. Embrace your recently found confidence by saying goodbye to the excess skin on your arms that is bothering you. To achieve the results of your dreams our surgeons in Turkey will provide you exceptional arm lift procedures, utilizing the latest techniques and technologies. We invite you to enjoy our personalized care, luxurious aftercare experience, and also affordable packages that will leave you very satisfied. With arm lift surgery in Turkey, you will gain a more sculpted and youthful appearance and get the results you desire. Contact us now for a consultation at our clinic or online!
What is arm lift surgery?
Arm lift surgery is also known as Brachioplasty. People who have excessive fat, skin, and subcutaneous and want to remove it choose to undergo this procedure. During the operation, this excess fat is removed by one of our specialists and when the operation is finished we provide you with a more natural and younger appearance of your arms. In brachioplasty, we also include methods such as liposculpture. During and after the medical process you are provided with medication to ease any pain so the process will go smoothly without any discomfort. At the beginning of the process, our specialist will make the best choice for your comfort and will provide you with intravenous sedation or general anesthesia.
Personalized care and consultation are what we provide at Queen Clinic in Turkey. Together with the doctor, we will decide on the best option to treat your issue. We will make sure the scars will be hidden after making the incision. We use liposuction or different fat transfer methods to remove the unwanted fat, then we continue to reshape and remove the excessive skin from the arms. After the process is finished the doctor will begin the closure stage. Removable or absorbable stitches are usually used in this procedure, but the doctor will view your recovery process closely in the post-surgery consultations.
Who is a good candidate for arm lift surgery?
Usually, people who consider arm lift surgery are:
Individuals who suffer from excessive upper arm skin.
Adults on stable weight.
Adults who are not obese or anorexic.
Individuals who are healthy and don't suffer from any medical condition which can interfere with the procedure.
People who understand the procedure, its risks, and advantages and have realistic expectations.
People with healthy eating habits who don't smoke and drink excessive alcohol.
Preparation before arm lift surgery
Before the procedure, the doctor will advise you to:
Get a full medical evaluation of your health
If you are a smoker, you should stop before the surgery
Tell him if you're taking any medication
Have someone accompany you after the procedure as you will not be able to do so by yourself
Avoid blood thinning medications like aspirin, anti-inflammatory drugs, or herbal supplements because they can increase the bleeding after the procedure
Have someone stay with you the first days after surgery as you will need help.
What are the steps of an arm lift procedure?
Step 1 - Anesthesia
Before the procedure, the doctor will give you medication so you do not feel any discomfort. General anesthesia or intravenous sedation are the usual choices. Our doctors will look at your case carefully and choose the best option for your case.
Step 2 - The incision
The pattern and length of the skin that must be removed during the arm lift treatment are determined by your doctor and what he believes is ideal for you, as well as the location and amount of extra skin. The fat can reach from the underarm to above the elbow, and the incisions will be put either inside or on the back of the arm, according to the surgeon's desire. Liposuction will be used to eliminate the extra fat. Depending on the client, the doctor will assess the situation, and the incisions may be more restricted in certain circumstances than in others. Internal sutures are then used to tighten and restructure the underlying supporting tissue. The skin is then reconstructed over your arm's new shape.
Step 3 - Closing the wounds
The surgeon closes the wounds with stitches or absorbable sutures. They will be removed from your arms after one or two weeks.
Step 4 - See the results
After the procedure of Brachioplasty, the results of tighter and smoother skin will be visible almost immediately. Swelling and bruising can be visible but this is nothing to worry about. At Queen Clinic in Turkey, we will have post-operation consultations to follow the recovery process together.
What should I expect during my arm lift recovery?
For the swelling to be minimized after the procedure, the surgeon will apply dressings or bandages that will be applied to the incisions and they can wrap the arms in elastic bandages, during the recovery process. If there is any excess blood or fluid a small tube will be placed temporarily into the skin in order to drain any fluid. Our surgeons will give you clear instructions on how to take care of the wounds and stitches at home, the medication you will take, and what issues you should worry about. You should carefully follow their advice to get the best result possible.
After arm lift surgery
At Queen Clinic in Turkey, we make every effort to make your healing period as comfortable as possible. We will make every effort to avoid difficulties and assure your safety. We will pay great attention to the wounds and sutures. Signs of numbness, pain, and swelling are possible but are considered normal after this procedure. After these passes you can return to your normal everyday activities.
What results should I expect after arm lift surgery?
It is critical that you understand what are your expectations from this procedure. The outcome will be obvious soon following surgery. The shape will be tighter and the arms will be smoother. The outcome will be seen when the swelling and bruises disappear. The scar from the incision can be noticed, but with our physicians' skill, it will be nearly undetectable. At the Queen Clinic in Turkey, we promise the finest possible outcome with the least amount of scarring.
The best part is that the procedure's outcomes will be long-lasting. Exercising and maintaining a steady weight also helps in the maintenance of the outcomes. It is natural for skin to loosen with age, yet the benefits are still pretty lasting. The operation will be successful if you follow your doctor's recommendations. During the healing process, avoid using excessive force, heavy motion, or abrasion. Our professionals' guidance will teach you how to care for yourself at home.
Returning to Everyday Life after arm lift surgery
We have consistently gotten great reviews for Arm Lift Surgery at Queen Clinic in Turkey over our years of practice. The first scar observation will be done within 5 to 10 days. When the patient feels ready, they should resume their usual daily activities. After arm lift surgery, you should avoid exercising and participating in strenuous physical activity for at least two months. Maintaining a constant weight and engaging in exercise will safeguard the procedure's benefits. A healthy way of living adds to long-term outcomes.
What are the risks of arm lift surgery?
If you decide on having an arm lift surgery, the specialist will tell you any information you may need, including the side effects and risks that come with the procedure. After this, you can decide whether it is worth it or not. Some of the risks to encounter can be:
Risks of anesthesia
Potential bleeding
Fat tissue under the skin can die
Nerves, muscles, and blood vessels can be harmed
Accumulation of fluid
Changes in skin sensation
Numbness
Pain or discomfort
Risk of infection
Revisional surgery can be advised
Poor healing of the wound
Visible scarring
Sutures that can be difficult to absorb and will cause irritation and redness
These risks will be disclosed to you before your surgery by your doctor and any question you may have will be addressed by them.
Why choose our clinic for this arm lift surgery?
When deciding on arm lift surgery, we understand that choosing the right clinic can be crucial. We will list some of the reasons why Queen Clinic in Turkey should be on top of your list.
Expert Surgeons
We provide you with highly qualified and trained doctors that are experts in arm lift treatments and will guarantee you get the finest possible result. They have considerable knowledge, skills, and a track record of producing remarkable results.
Safety and Satisfaction
Your safety and satisfaction are what we acquire to achieve at our clinic. These factors stand at the top of our priority list.
Modern Facility
Queen Clinic has been equipped with cutting-edge devices and technology. Our doctors can employ the most recent techniques in this area as well as revolutionary developments in the arm lift surgery process. This will ensure that you obtain the finest possible result while also minimizing pain and suffering throughout the operation.
Individualized CarePersonalized Care
To fit your goals and requirements the doctor will tailor the treatment according to your specific needs, for the surgery to have the best results to fit your body. Any question or concern you may have, the doctor will be ready to answer so you don't have to worry about anything.
Cost
Queen Clinic in Turkey will provide competitive and clear pricing alternatives, making us an accessible option for patients seeking the highest quality at the lowest possible cost.
Frequently Asked Questions
The length of the operation might vary depending on the patient's individual demands and the extent of the surgery. The arm lift treatment might take between 1 and 3 hours to complete.
The amount of skin removed will be determined by the doctor based on the patient's skin laxity and the level of repair desired. During arm lift surgery, the doctor will often remove 2 to 4 pounds of skin.
We guarantee that the operation will not be unpleasant because it is conducted under general anesthetic, but because arm lift surgery is considered a surgical procedure, some discomfort is to be expected. However, the doctor will provide you with pain relievers after the treatment.
To prevent swelling and pain, we recommend sleeping with your arms raised on pillows. It is advised to avoid sleeping on your arms during the first several weeks of healing.
We advise our patients to take 10-14 days of work. For about 3 weeks after arm lift surgery, you shouldn't use your arms for strenuous duties. After this time, if you feel ready you should start to resume your everyday routine and after 6 weeks you can exercise fully.
Usually, arm lift surgeries are performed in the morning so we advise the patients to go and recover at home.