Hair Transplantation FUE Technique In Turkey
at Queen Clinic in Istanbul, leading hair transplant specialists.
Leadership Assessed
Outstanding
Leadership rated
Outstanding
Surprising results
I had an abdominoplasty 3 months ago and I am very satisfied with the results. I had a lot of flabby skin and stretch marks from pregnancy and childbirth, and the abdominoplasty removed all that and gave me a flat, toned abdomen. I feel much more confident about my body now.
Hortensia Vaccarino, 20 hours ago
I am very happy
I am very happy to share my experience at Queen Clinic in Istanbul. I came from Italy to undergo liposuction and could not be more satisfied with the results.
Olga Torelli, 4 days ago
Very satisfied with the results
I had dental implants 6 months ago and I am very satisfied with the results. I had lost some teeth due to gum disease, and the dental implants restored my smile. I feel much more confident now when I smile.
Gerardo Auletta, 6 days ago
I am more confident
I am very satisfied with the results of my hair transplant. I had been losing my hair for many years and it was starting to affect my self-esteem. I did some research and found a trusted surgeon who performed the procedure. The procedure was quick and painless, and recovery was relatively easy.
Aquilino Presti, 9 days ago
Rated 4.8 / 5 - 361 reviews
Showing our latest reviews
The Latest Technologies
Taking advantage of the most advanced advances, we offer our patients the benefits of cutting-edge diagnoses, treatments and solutions.
Leading Doctors In The Field
We have invited only the best and most experienced consultants and doctors in Turkey to work with us. An unwavering commitment to excellence.
Free Online Consultation
It takes absolutely nothing to get a free online consultation from the best doctors in the world. We have made this process very easy and free for everyone, forever.
Reliable Worldwide
Every year we help more than 4,000 patients from countries such as the United States, Italy, England, France, Germany, Spain, etc. to improve their health and appearance.
FUE Hair Transplantation At A Glance
Time Of Operation
5-6 Hours
Persistence Of Results
A Lifetime
Sensitivity Time
3-15 Days
Time To Return To Work
3 Days
Anesthesia
Sedation And Local Anesthesia
Before And After FUE Hair Transplantation In Turkey
Before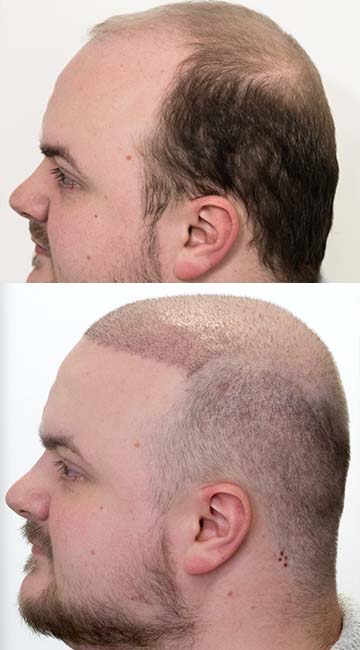 Before
Sapphire FUE Hair Transplant in Turkey
Queen Clinic in Turkey is one of the largest FUE hair transplant clinics. Over the past 10 years, more than 10,000 FUE hair transplants have been successfully performed. FUE, or Follicular Unit Extraction, is a restoration method that replaces missing hair by moving healthy follicles from one part of the donor head, usually the sides and back, to the area where hair is missing, which is usually the hairline. The best and most natural results are achieved with FUE, a surgical hair restoration method that requires expertise and perseverance. We will discover the benefits of choosing a Turkish clinic for your hair restoration journey, from state-of-the-art procedures to the fascinating cultural experiences that await you. Find out how you can revitalize your appearance with a Sapphire FUE hair transplant in Turkey.
How Sapphire FUE Hair Transplants Work?
Sapphire Fue Hair Transplant procedure for hair involves taking out individual hair follicles from your skin and implanting them in various parts of your body, often your head. This technique will make the hair in the new region look denser.
FUE, which was regarded as the traditional procedure, was meant to take the role of the "traditional" follicular unit transplantation (FUT) approach. An entire section of the dermis or scalp—complete with follicles—was transplanted during this procedure to the fitting position.
FUE has become more popular than FUT because the technique is less likely to produce a "hair plug" look when patches of skin or hair don't match the surrounding areas. It won't also create a recognizable scar, unlike FUT.
For an FUE hair transplant, a good candidate for Sapphire FUE is someone who has thinning or balding hair but still has sufficient hair nearby for a transplant. You may not be a candidate for an FUE hair transplant if you don't have enough strong, healthy hair for transplantation to the balding or thinning area. Turkey has gained international recognition for its expertise in FUE hair transplantation.
Transplantation Technique
The Sapphire FUE Hair Transplant procedure works as follows:
Our specialist will shave the hair in the area where follicles will be harvested as well as surrounding the transplant site.
They will use a micro punch tool to remove the hair follicles from your skin.
Your surgeon will use a needle or another small, sharp device to make a series of tiny incisions to insert the extracted follicles.
The incisions will then receive the follicles.
For the region to recover and prevent infection, your surgeon will clean it and bandage it.
How Long Does The Sapphire FUE Hair Transplant Take?
The number of grafts being transplanted, the intricacy of the case, and the specific requirements of each patient can all affect how long a sapphire FUE hair transplant takes in Turkey. A sapphire FUE hair transplant operation may often be completed in a day or less.
The treatment process as a whole, including the surgery itself, which might take several hours or a day, pre-operative preparations including consultations and evaluations, as well as post-operative care and follow-up appointments, are crucial to keep in mind. These elements affect how long the hair transplant procedure takes altogether.
The Advantages of Sapphire FUE in Turkey
When compared to other hair transplant procedures, the Sapphire hair transplant in Turkey provides more advantages and a higher degree of accuracy for the best outcomes. The advantages of sapphire FUE hair transplantation:
Scars that are essentially undetectable for a natural appearance.
Little discomfort following your surgery.
Less downtime means a quicker return to everyday activities.
Ensures your preferred hairline form and natural appearance.
Fewer consequences than with alternative therapies.
Due to its ability to provide a more natural-looking outcome, the Sapphire FUE hair transplant Turkey method is presently preferred by many patients. With this procedure, you may get your desired outcomes even if you have low hair density, such as thin hair, with little scarring, significantly less postoperative discomfort, and a more accurate technique.
Sapphire FUE hair transplant Experience
The time of recovery after the FYE hair transplant is usually fast. You'll definitely start to see improvements in 3 to 4 months. Some swelling or pain is expected for the first three days post-surgery.
Here are some suggestions for post-treatment from our specialists:
After three to four days it is ideal to take a shower.
Stop working for a few days to heal.
Refrain from using a comb or brush on your new hair for at least 3 weeks.
Avoid wearing hats, beanies, or any other head-covering gear until your doctor gives the all-clear.
Use gentle, odorless shampoos for a few weeks after surgery.
Do not exercise intensely for at least an entire week.
When the wound heals, it's probable that some hairs will fall out. That is normal.
Preparation process before Sapphire FUE hair transplantation
Our doctors would suggest you do the following before getting an FUE hair transplant:
Quit smoking a minimum of one day before your surgery.
Drinking is not advised prior to surgery.
Stop taking any vitamins or nutritional supplements two weeks before surgery.
Before surgery, antidepressants should be avoided for around 2 weeks.
Pre-procedure haircutting should be avoided.
Don't take aspirin or other blood thinners for around two weeks before surgery.
To increase blood flow, massage your scalp daily for 10 to 30 minutes for a few weeks
Take any medications that your surgeon advises, including minoxidil (Rogaine).
Get a blood test and an electrocardiogram (ECG) first.
Is Sapphire FUE Hair Transplant the right choice for me?
The most straightforward way to learn if FUE is the best treatment to restore your hair is to book a consultation at our hair restoration center. Combining world-class competitive costs, state-of-the-art facilities, and unforgettable cultural immersion, this is an experience that goes beyond hair restoration. It might be difficult to determine if you are a suitable candidate for an FUE hair transplant or if this option is ideal for you. Good and healthy hair is needed from the back and the side region of your head, which serves as a location where follicles can be extracted as a donor. The aesthetic outcome may also depend on additional elements including hair color, texture, and waviness or curliness.
Choosing a Turkish clinic for FUE hair transplantation not only guarantees exceptional results but also provides a unique opportunity to experience the cultural richness of Turkey. If you want to understand whether you are a good candidate for the treatment you would like to contact our specialists in Turkey. Take the first step towards revitalizing your look and embracing a transformative journey in the enchanting land of Turkey, and discover the specifics of this procedure, including every detail of it.
Does the Sapphire FUE Hair Transplant process hurt?
Sapphire FUE hair transplant is a safe hair surgery technique that is carried out under local anesthetic, minimizing discomfort and leaving most patients completely numb. The entire time the hair transplant process is carried out, you will be awake. There will be some little discomfort while the wound is healing, but it will pass within about seven days. Furthermore, there is extremely little risk that FUE may create issues.
Sapphire FUE hair transplant cost in Turkey?
Contact our clinic right now to set up a private consultation and price if you have questions about how much a FUE sapphire hair transplant in Turkey would cost. Any other queries or worries you may have may be addressed by our experts, and we can also provide you with an exact price quote for an FUE sapphire hair transplant in Turkey. Please contact us; a member of our helpful staff would be pleased to help.
Why choose us?
Choosing Sapphire FUE sapphire hair transplantation at our Turkey clinic offers a wonderful package of advantages that go well beyond hair restoration. For those looking to refresh their appearance, the mix of unmatched competence, cutting-edge facilities, affordable price, cultural immersion, and a smooth travel experience delivers a genuinely transforming adventure. By selecting our facility in Turkey, you are leaving your road to hair restoration to highly qualified surgeons and medical teams that have won acclaim for their proficiency in FUE methods on a global scale.
Turkey is the perfect location to combine your hair restoration journey with amazing cultural experiences because of its rich past, vibrant customs, and kind hospitality. Discover ancient sites, savor delectable Turkish food, and immerse yourself in Turkey's magnificent scenery. Selecting our facility for sapphire FUE hair transplantation ensures great outcomes, ethnic diversity, and a transformational overall experience.
Queen Clinic in Turkey provides excellent surgeons, modern technologies, and the newest technology, to provide the best results for your treatment. Your experience will be top-notch and we ensure you with a warm, and friendly environment to make you feel as comfortable as possible.
Begin the process of reviving your appearance and embrace a journey that extends beyond hair repair. Discover our Turkish clinic's brilliance and engross yourself in a mesmerizing blend of medical know-how and cultural charm. In the fascinating country of Turkey, your rejuvenated beauty and increased self-esteem are waiting for you.
Frequently Asked Questions
There is some discomfort when this is delivered since a hair transplant surgeon will use anesthesia before your transplant.
If carried out by a skilled and experienced physician at a reputed facility, the FUE transplantation of hair procedure is a safe operation with few or no side effects.
98% of patients are going to receive a successful hair procedure thanks to the little scarring caused by today's methods for hair restoration. The most cutting-edge hair restoration procedure available today, sapphire FUE hair transplantation produces the best-looking, most successful outcomes of any other procedure.
The hair that was transplanted is going to keep growing for many years, but some people may continue to lose hair as they age, necessitating a top-up transplant to restore greater density to the places that were just lost.
Your head should be raised on a towel the first few nights after the procedure is done.
On the day of the hair transplant procedure, the patient can have breakfast or other meals.
Caffeine-containing beverages should not be consumed the day before or the day of the operation.
The pain level after the procedure differs from patient to patient. The first weeks can be difficult and soreness and discomfort can be present but they will eventually go away. The level of pain can depend on the amount of grafts implemented on the scalp area. The doctor can advise you to use painkiller medicine if your cant endure the pain, this won't affect the recovery procedure
The hair is often removed from the back and sides of the scalp because it stays in the normal hair development cycle for a longer period of time than hair from the front and crown. After being transplanted, your hair keeps the characteristics it had previously. This indicates that the hair will generally last a lifetime, or at least until old age.
Hair grafts are manufactured from a thin strip of hairy skin that is sliced into pieces, each containing one to four hairs, and are inserted into tiny scalp incisions. Stitches are used to seal the area where the hairs are collected. The scarring in the recipient area can only be seen under a microscope, whereas the donor area has very little scarring that, for the most part, is hidden by your hair. FUE, in contrast to previous hair procedures, may nearly go undetected when done correctly.
Patients will see different outcomes, but for the majority of individuals, you'll start to see an inch or so of hair growth six months after surgery, with full results taking up to a year.