Double Chin Liposuction In Turkey
at the Queen Clinic in Istanbul leading dental specialists.
Leadership Assessed
Outstanding
Leadership rated
Outstanding
Surprising results
I had an abdominoplasty 3 months ago and I am very satisfied with the results. I had a lot of flabby skin and stretch marks from pregnancy and childbirth, and the abdominoplasty removed all that and gave me a flat, toned abdomen. I feel much more confident about my body now.
Hortensia Vaccarino, 20 hours ago
I am very happy
I am very happy to share my experience at Queen Clinic in Istanbul. I came from Italy to undergo liposuction and could not be more satisfied with the results.
Olga Torelli, 4 days ago
Very satisfied with the results
I had dental implants 6 months ago and I am very satisfied with the results. I had lost some teeth due to gum disease, and the dental implants restored my smile. I feel much more confident now when I smile.
Gerardo Auletta, 6 days ago
I am more confident
I am very satisfied with the results of my hair transplant. I had been losing my hair for many years and it was starting to affect my self-esteem. I did some research and found a trusted surgeon who performed the procedure. The procedure was quick and painless, and recovery was relatively easy.
Aquilino Presti, 9 days ago
Rated 4.8 / 5 - 361 reviews
Showing our latest reviews
The Latest Technologies
Taking advantage of the most advanced advances, we offer our patients the benefits of cutting-edge diagnoses, treatments and solutions.
Leading Doctors In The Field
We have invited only the best and most experienced consultants and doctors in Turkey to work with us. An unwavering commitment to excellence.
Free Online Consultation
It takes absolutely nothing to get a free online consultation from the best doctors in the world. We have made this process very easy and free for everyone, forever.
Reliable Worldwide
Every year we help more than 4,000 patients from countries such as the United States, Italy, England, France, Germany, Spain, etc. to improve their health and appearance.
Double Chin Liposuction At A Glance
Time Of Operation
1-2 hours
Persistence Of Results
A lifetime
Sensitivity Time
3-4 weeks
Time To Return To Work
3-4 weeks
Anesthesia
Local Anesthesia
Before And After Double Chin Liposuction In Turkey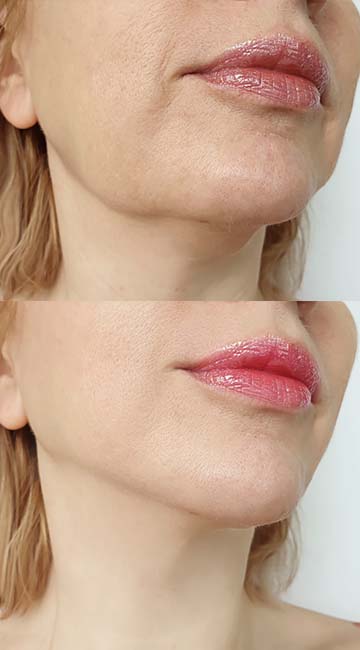 Double Chin Liposuction Turkey – Double Chin Surgery
Double chin surgery or liposuction in Turkey is an intervention aiming to decrease the size of the chin and treat temporomandibular disorders. This type of operation has the goal of recreation of a more proportioned and harmonious appearance to the chin area and the face.
What is Chin Liposuction?
Chin liposuction, widely recognized as double chin surgery, is a straightforward procedure to aid in eliminating a stubborn double chin.
Chin liposuction is thoroughly intended for patients who have excess fat surrounding their chin, a lack of a firm jawline, or even wrinkling, coming is a reason for surplus skin tissue.
Throughout this procedure, there will be inserted a small tube namely, a cannula, in certain locations in the chin. The tube will then be moved back and forth to help break down the fat and loosened fat cells will be sucked out of the body. The cannula employed for this procedure is quite fine, requiring only some small incisions to be made.
Alongside the removal of excess fat, a double chin liposuction leaves the patients with a much more defined, solid, firm, and smooth profile.
Why do people have it?
There is a list of factors that push men or women toward undergoing a double chin liposuction, among which:
Annoyed by the appearance of surplus chin fat
Diet or exercise aren't efficient on the chin fat
Restoration of a more rejuvenated appearance to the lower part of a woman's face
Restoration of a more chiseled, masculine appearance to the male face
Wanting quick results
Restoration of definition to the lower part of the face
It is the cause of insecurity and unhappiness
It is affecting the overall psychological well being
Who Is Suitable?
Queen Clinic deems individuals ad fit for the procedure, if they check all the following points:
Mentally and physically healthy and fit
Annoyed and worried about the look of a double chin
There is no excessive sagging skin present around the lower part of the face
Have reasonable expectations of what can be achieved by surgery
Are over the age of 18 years old
What to expect
Your excursion with the Queen Clinic begins with the very first consultations with one of the knowledgeable and skilled plastic surgeons at our cutting-edge facilities in Istanbul, Turkey. These consultations range from 30 to 60 minutes.
Throughout the consultation, the surgeon will be asking you about what you are expecting for your double chin liposuction and have a discussion about what will be going on during the surgery. They will also explain in-depth how the procedure will impact you.
Being open and honest about what your expectations are to achieve via surgery is vital in order to make sure you get the best possible outcomes. Your surgeon will be more than happy to answer any questions you might have. A great idea might be to write down your questions prior to attending the consultation. Determining what you want from the procedure, and what is possibly achievable given your existing anatomy, there will be some measurements made and there will be standard clinical photography taken. Moreover, you will be asked about your medical history including previous surgeries, allergies, and medications you are currently taking and there will be a physical examination conducted.
If your surgeon views you as suitable for the procedure, you will next be invited to think about whether you would like to go on with the procedure or not, choosing to have a two-week "cooling off" period.
Upon deciding to proceed with the surgery after the cooling-off period, the next time you arrive at the clinic will be the day of your procedure.
Frequently Asked Questions
Surgery for blepharoplasty requires just minimal preparation. In contrast, it is advised that you stop taking any blood-thinning medications, including aspirin or ibuprofen, two weeks before surgery if you can do so.
No, even if you are awake, you shouldn't feel any of the actual procedure since you will receive a local anesthetic injection shortly before the process. The eyelids may first hurt or feel itchy, but after the injection, they will go numb.
The surgery is not considered painful, but if there is any discomfort pain killer medicine is provided to you. The eyelids can feel sore and painful but this will pass with time as it is considered a normal side effect. The doctor can also advise you to use lubrification eye drops several times during the day if your eyes start to feel dry.