Otoplasty In Turkey
at the Queen Clinic in Istanbul leading dental specialists.
Leadership Assessed
Outstanding
Leadership rated
Outstanding
Surprising results
I had an abdominoplasty 3 months ago and I am very satisfied with the results. I had a lot of flabby skin and stretch marks from pregnancy and childbirth, and the abdominoplasty removed all that and gave me a flat, toned abdomen. I feel much more confident about my body now.
Hortensia Vaccarino, 20 hours ago
I am very happy
I am very happy to share my experience at Queen Clinic in Istanbul. I came from Italy to undergo liposuction and could not be more satisfied with the results.
Olga Torelli, 4 days ago
Very satisfied with the results
I had dental implants 6 months ago and I am very satisfied with the results. I had lost some teeth due to gum disease, and the dental implants restored my smile. I feel much more confident now when I smile.
Gerardo Auletta, 6 days ago
I am more confident
I am very satisfied with the results of my hair transplant. I had been losing my hair for many years and it was starting to affect my self-esteem. I did some research and found a trusted surgeon who performed the procedure. The procedure was quick and painless, and recovery was relatively easy.
Aquilino Presti, 9 days ago
Rated 4.8 / 5 - 361 reviews
Showing our latest reviews
The Latest Technologies
Taking advantage of the most advanced advances, we offer our patients the benefits of cutting-edge diagnoses, treatments and solutions.
Leading Doctors In The Field
We have invited only the best and most experienced consultants and doctors in Turkey to work with us. An unwavering commitment to excellence.
Free Online Consultation
It takes absolutely nothing to get a free online consultation from the best doctors in the world. We have made this process very easy and free for everyone, forever.
Reliable Worldwide
Every year we help more than 4,000 patients from countries such as the United States, Italy, England, France, Germany, Spain, etc. to improve their health and appearance.
Otoplasty At A Glance
Time Of Operation
2-3 hours
Persistence Of Results
A lifetime
Sensitivity Time
4-6 weeks
Time To Return To Work
1 week
Anesthesia
General Anesthesia
Before And After Otoplasty In Turkey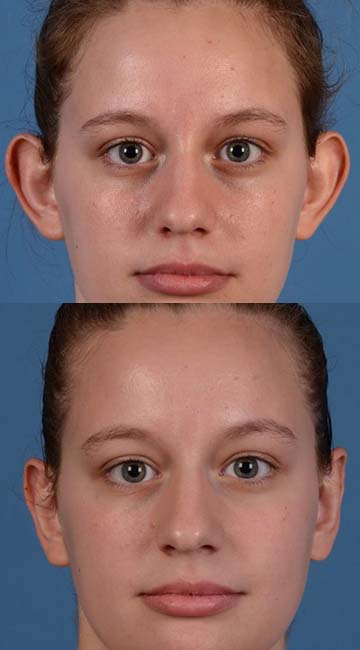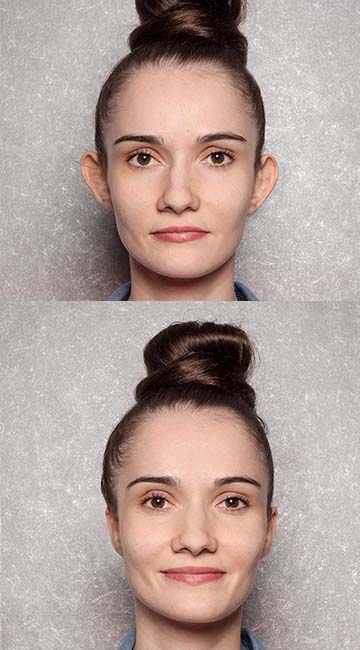 Otoplasty– Ear Reshaping Surgery In Turkey
With an otoplasty-ear reshaping operation in Turkey, you may boost your self-confidence and obtain the desired appearance. Queen Clinic provides high-quality otoplasty operations at economical costs. This surgery can address ear deformities, enhance shape and position, and establish an appropriate symmetrical face balance. We provide highly trained specialists, fully-equipped facilities, and complete attention to our patients' needs. Our clinic guarantees remarkable outcomes. Contact us now to learn more about the life-changing benefits of otoplasty and to begin your road toward your ideal look.
What is Otoplasty?
Otoplasty, frequently referred to as cosmetic ear surgery, is a surgical technique that improves the form, location, or size of the ears. If you're not pleased by how much your ears spread from your skull, you might think about otoplasty. If your ear or ears are deformed due to an injury or inherited condition, you might consider looking into otoplasty surgery.
Otoplasty can be performed at any age once the ears have achieved their full size which is right after the age of 5, and continues throughout adulthood. If a kid is born with large ears or other ear-shaped defects, an ear-shaping procedure may successfully repair these difficulties if started right after birth.
Why do people have it?
The ears are very important in the overall balance and aesthetic impression of the face. Deciding for otoplasty, or ear surgery, at our Turkey facility can bring various benefits that extend beyond physical beauty.
The ability to modify the size, shape, and location of the ears is one of the primary benefits of otoplasty. This operation can address large or displaying ears, restoring symmetry and bringing them into better harmony with the rest of the person's face. Otoplasty is also quite efficient in treating congenital abnormalities with the ear structure, resulting in a harmonious and natural look.
Additionally, otoplasty can help those who have distorted ears due to heredity, damage, or previous surgical procedures. This surgery, which reshapes the ears, can improve emotional well-being and self-esteem. It allows people to feel more confident, secure, and accepted, thus improving their entire quality of life.
Who is it suitable for?
Individuals are considered suitable for Otoplasty if they match all of the following criteria:
Ears that are prominent or protrude
Asymmetrical ears
Damaged or enlarged earlobes
Reduced self-esteem as a result of ear shape or size
Unsatisfactory outcomes from earlier ear pinning
Ears that are too big or too little and don't suit your face
Why should you choose us for your Otoplasty?
If you are thinking about having ear reshaping surgery in Turkey, Queen Clinic guarantees excellent outcomes and a high degree of knowledge and care. First off, we provide a group of exceptionally talented surgeons that focus on Otoplasty. They can treat a variety of issues with ear shaping, including asymmetry and malformed lobes. They spend a lot of effort and time on giving you results that are beautiful and natural-looking and will meet your demands.
Modern amenities and cutting-edge technology are available at our clinic, guaranteeing a secure and relaxing experience when you undergo otoplasty. We put the health of the patient first, taking all necessary precautions to reduce risks and increase the procedure's success. We are dedicated to providing individualized care, answering your worries, and assisting you at every stage of the procedure thanks to our kind and professional personnel.
If you decide to visit Queen Clinic for ear-shaping surgery, you can count on our expertise, highly experienced personnel, and commitment to customer satisfaction. Experience the transformational power of otoplasty and obtain the desired improved ear appearance at our facility.
What are the benefits of Otoplasty?
Improvements in confidence
Many otoplasty patients are self-conscious about how their ears look, especially in public. Auricle reduction or ear pinning might help with looks, boosting self-esteem.
Safe
The outer ear is composed of very resistant tissue that may heal quickly following surgery. It is considered a safe procedure with minimal risks possible. Every year, thousands of adults and children safely benefit from otoplasty.
Long-lasting results
Otoplasty is used to treat big ears or those that extend significantly from the head. The consequences of the procedure will continue for the rest of the patient's life.
Can correct a variety of issues
Ear reshaping surgery can address multiple problems in this area at once. Patients who have ears that stick out of their heads and make them self-conscious. Big ears and undeveloped ears are also reasons to go for this treatment.
Are there any side effects and risks?
Otoplasty, like any major operation, has risks and possible consequences. Before proceeding with the operation, it is critical to be informed of the risk factors. Otoplasty hazards include bleeding, infection, and bad anesthesia responses, all of which are possible for any surgical surgery.
Scarring is another possible complication of otoplasty. Scars tend to be permanent, however, they are frequently hardly noticeable since they are concealed beneath or inside the ear's natural folds. Asymmetry in ear location is also a possibility since changes that occur during recovery or the inability to completely reverse previous asymmetry might have an impact on the outcome. The repositioning required in otoplasty might cause brief alterations in the skin's feeling around the ears. Permanent alterations to skin feeling are also conceivable, although these are unlikely.
Frequently Asked Questions
You won't experience any discomfort during ear reshaping surgery because it is done under local anesthesia. In the days following surgery, there may be a little discomfort or pain, but this may be managed with prescription medications. The ear may feel sensitive because the stitches may poke through the skin and come to the surface. By two weeks after surgery, all discomfort and pain are supposed to be resolved. In four weeks, you will have healed from your ear reshaping treatment.
If you stick to your surgeon's post-surgical care instructions, such as wearing a headband for a few days if necessary to help your ears recover in their new position, the effects of ear shaping surgery are permanent. The benefits of your operation should be seen practically right away, although we normally advise waiting one to two weeks to enable any bruising or swelling to go down before you can anticipate seeing your complete results. After having an otoplasty procedure, you are expected to fully recover in four weeks.
Behind the ear is the most typical location for an otoplasty scar. Although some scarring is unavoidable, our expert surgeons make the necessary incisions in the ear's natural folds and creases, ensuring that the scars are hardly noticeable. Over time, the scars will disappear spontaneously.
Hearing does not get impacted by ear surgery, which main purpose is to alter the external shape of the ear. Instead of affecting the inside of the auditory system or changing the function of the ears, the surgery tries to enhance their position and outward appearance. Although transitory alterations in skin feeling around the ears are possible after any operation near the ears, these changes shouldn't have a long-term effect on hearing.