Hair Transplant For Women In Turkey
at the Queen Clinic in Istanbul leading dental specialists.
Leadership Assessed
Outstanding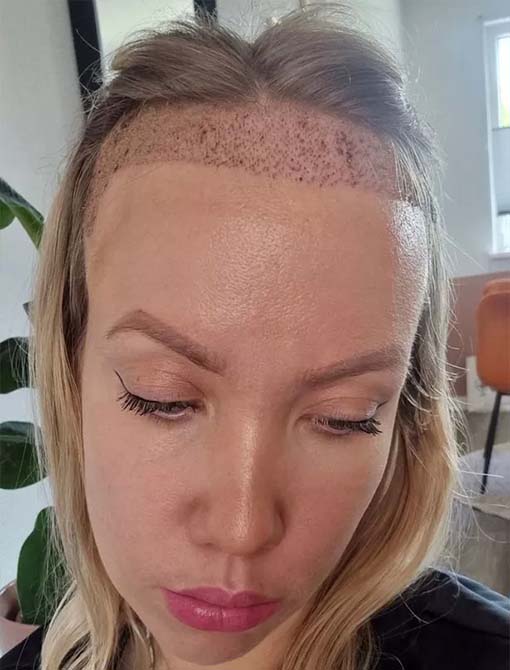 Leadership rated
Outstanding
Surprising results
I had an abdominoplasty 3 months ago and I am very satisfied with the results. I had a lot of flabby skin and stretch marks from pregnancy and childbirth, and the abdominoplasty removed all that and gave me a flat, toned abdomen. I feel much more confident about my body now.
Hortensia Vaccarino, 20 hours ago
I am very happy
I am very happy to share my experience at Queen Clinic in Istanbul. I came from Italy to undergo liposuction and could not be more satisfied with the results.
Olga Torelli, 4 days ago
Very satisfied with the results
I had dental implants 6 months ago and I am very satisfied with the results. I had lost some teeth due to gum disease, and the dental implants restored my smile. I feel much more confident now when I smile.
Gerardo Auletta, 6 days ago
I am more confident
I am very satisfied with the results of my hair transplant. I had been losing my hair for many years and it was starting to affect my self-esteem. I did some research and found a trusted surgeon who performed the procedure. The procedure was quick and painless, and recovery was relatively easy.
Aquilino Presti, 9 days ago
Rated 4.8 / 5 - 361 reviews
Showing our latest reviews
The Latest Technologies
Taking advantage of the most advanced advances, we offer our patients the benefits of cutting-edge diagnoses, treatments and solutions.
Leading Doctors In The Field
We have invited only the best and most experienced consultants and doctors in Turkey to work with us. An unwavering commitment to excellence.
Free Online Consultation
It takes absolutely nothing to get a free online consultation from the best doctors in the world. We have made this process very easy and free for everyone, forever.
Reliable Worldwide
Every year we help more than 4,000 patients from countries such as the United States, Italy, England, France, Germany, Spain, etc. to improve their health and appearance.
Hair Transplant For Women At A Glance
Time Of Operation
4-8 hours
Persistence Of Results
A Lifetime
Sensitivity Time
3-15 Days
Time To Return To Work
3 Days
Anesthesia
Sedation And Local Anesthesia
Before And After Hair Transplant For Women In Turkey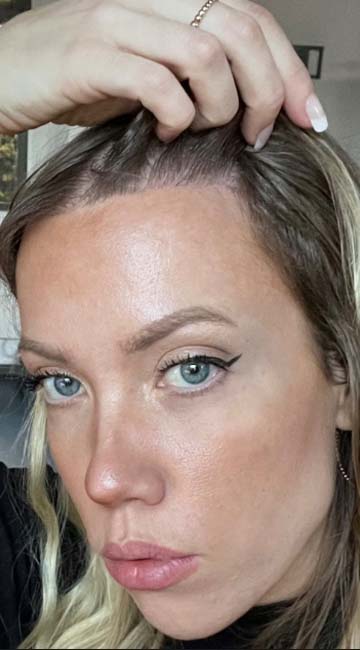 Before
After
Before
Hair Transplant For Women In Turkey
Hair transplant procedure in Turkey is possible with our modern equipment and the skilled professionals we provide at Queen Clinic in Istanbul. If you are ready for a journey to improve your self-confidence and to regain a head full of hair we recommend you book a consultation as soon as possible. This procedure is done by the Follicular Unit extraction and transplantation procedures we offer at our clinic. Say goodbye to hair loss and welcome a head of hair that is thicker, more natural-looking, and voluminous hair by speaking with our specialists for customized advice. Regain your confidence and revel in the pleasure of a youthful appearance. Make an appointment with one of our specialists if you are interested in getting a hair transplant for women in Turkey.
What is a female hair transplant?
A surgical procedure performed to treat female hair loss or thinning is known as a female hair transplant. Healthy hair follicles are transplanted from a donor region to places that are balding or thinning their hair. Taking into account elements like hairline design, natural hair patterns, and probable future hair loss, the technique is particularly designed to fit the specific requirements and qualities of female hair. Hair volume, density, and overall aesthetic appeal can all be improved with female hair transplants. You should book a consultation with one of our trained hair transplant surgeons at Queen Clinic to decide the best course of action for each patient's needs.
Why do women get hair transplants?
For several reasons, men and women decide to choose hair transplant techniques. If your wish is to have thick hair, to improve your overall appearance, this procedure is the right one for your case. The good thing about hair transplants is that they are permanent solutions and offer a life of beautiful and thick-looking hair. Following are some typical reasons why female patients choose to undergo hair transplant procedures:
Alopecia areata, alopecia universalis, and scarring alopecia are a few medical diseases that can result in hair loss in women. Hair restoration in damaged regions may be possible with hair transplants.
Localized hair loss may occur after trauma, burns, or traumas to the scalp in women. Procedures for hair transplantation might aid in resuming hair growth and enhancing the look of the damaged regions.
Women may lose some of their hair or have thinner hair when their hormones change. This can happen during times like menopause or pregnancy. Hair transplants are a possible treatment for hair loss disorders triggered by hormonal imbalances.
Some women choose to enhance or modify the contour of their hairlines. A hairline can be improved and made more cosmetically acceptable by hair transplants.
Women who want to improve or repair their eyebrows or eyelashes that are thinning or missing due to different factors, such as overplucking, age, or medical issues, may get hair transplants.
Androgenetic Alopecia, commonly referred to as Female Pattern Hair Loss, is a hereditary condition of hair thinning that affects individuals of both genders within families. In places where this problem happens, hair transplants can help bring back hair thickening.
What should I expect during a consultation for hair transplant surgery?
You can expect a detailed conversation and assessment of your worries and expectations during your consultation for hair transplant surgery. The hair transplant professional at Queen Clinic will spend time learning about your particular hair loss problems and desired results. Your medical history will be examined, along with any underlying diseases or drugs that could affect the operation.
The doctor will also make an effort to understand the reason behind your hair loss. One possibility is that they inquire about any hormonal changes you have undergone, whether hair loss is a common occurrence in your family, or if any medical factors could be attributed to your hair loss.
Examining your scalp and hair is a crucial part of the consultation. Your scalp will be examined by the surgeon, who will note details such as hair density, hair loss pattern, and donor hair quality. They will assess your scalp's suppleness, which is crucial for evaluating if the transplant process will be successful.
The dialogue must include expectations management. Based on your unique circumstances, the surgeon will go over possible hair transplant results with you. They will describe what can be accomplished in terms of hairline design, hair density, and the likelihood of future hair loss in a realistic manner. To ensure satisfaction with the conclusion, it is crucial to have a true grasp of the findings.
The hair transplant specialist will go through the therapy alternatives that are best for your situation. The pros, cons, and possible hazards of each approach will be covered, including those involving Follicular Unit Extraction (FUE) and Follicular Unit Transplantation (FUT). They may also talk about further non-surgical hair restoration methods if it's acceptable.
The surgeon will create a custom treatment plan for you based on the assessment and conversation, he will also show you how to take care of yourself when you're at home post-operation. They will detail the number of grafts needed, the anticipated length of the process, and whether or not repeated sessions would be required. Maybe you will need medication and a slight change in the lifestyle process for the recovery process to go as smoothly as possible.
Evaluating Candidacy for Hair Transplants
To examine a woman's suitability to undergo a female hair transplant and determine whether she is a suitable candidate, a thorough evaluation of several factors is required. The extent of hair loss is one of the main factors. The possibility and success of a hair transplant depend greatly on the degree of thinning or balding. To cover the regions affected by hair loss, sufficient donor hair must be available.
Another crucial component of the examination is figuring out the root of hair loss. While female pattern hair loss is frequently the cause of concern, it's important to check whether any particular medical issues, hormone imbalances, or other factors may also be to blame. The best course of therapy can be chosen by identifying and treating the fundamental cause.
During the review of a candidate's candidature, the donor hair's qualities and traits are also evaluated. The donor hair's density, texture, and general health are key factors in producing effective transplantation outcomes. The donor area will be examined by the surgeon to make sure there are enough hair follicles there for the transplant process.
In addition, the health of the scalp is assessed. A healthy scalp with enough flexibility and strong blood flow is necessary for a hair transplant to be effective. Scalp laxity is carefully considered throughout the examination since it influences how simple it is to remove and implant hair follicles.
The person's overall health as well as their medical background are taken into account. The eligibility for a hair transplant might be affected by things including pre-existing medical disorders, drugs, and past procedures. Any relevant medical information must be shared to guarantee the procedure's safety and effectiveness.
The hair transplant specialists at Queen Clinic will decide if the person is a good candidate for the operation based on the study of these variables. They will talk about the results, prospective courses of therapy, and any particular advice suited to the person's particular circumstances.
The Hair Transplant Procedure
The initial consultation with one of our licensed hair transplant experts is the first step. By examining the donor's hair, holding a consultation with the patient to discuss their goals, and assessing the level of hair loss, the doctor gathers the necessary information. To find out if the patient can get a hair transplant, the doctors will also check why the patient is losing hair. After deciding to run for a position, the usual steps involved in the process are:
Anesthetic: To ensure the patient's comfort throughout the treatment, local anesthetic is given to numb the scalp.
Donor Hair Extraction: The doctor removes sound hair follicles from the donor region, which is often on the sides or back of the head. Genetically resistant to the consequences of hair loss, this donor's hair.
Donor Hair Preparation: Carefully dissected and ready for transplantation are the retrieved hair follicles. The surgeon makes sure the grafts are viable for a successful transplant.
Creation of Recipient Sites: In the regions of the scalp where hair restoration is sought, small incisions or recipient sites are made. To produce a natural-looking outcome, the surgeon pays special attention to the angle, orientation, and density of the recipient sites.
Graft Placement: To get the best cosmetic results, the prepared hair follicles, or grafts, are delicately inserted into the recipient areas.
Postoperative Care: The patient receives postoperative care instructions, including details on medication, wound care, and activity limitations, after the surgery. To track development and address any issues, the surgeon may arrange follow-up sessions. New hair begins to develop from the transplanted grafts when the hair follicles enter a growth phase over time. Within a few months, the final effects become apparent as the hair continues to grow and blend with the natural hair.
Post-operative Care and Recovery
It's crucial to pay attention to our specialist's postoperative care recommendations after a hair transplant treatment. This entails taking prescribed medicine, caring for wounds properly, refraining from intense activity, shielding the scalp from sunlight, attending follow-up visits, and adhering to certain hair care instructions. It takes time for results to materialize, thus persistence is required. Following postoperative instructions can help you improve your recovery and get the greatest results from your hair transplant.
Long-Term Results and Maintenance
For women who have undergone a hair transplant process, upkeep, and long-term outcomes are crucial factors to take into account. Understanding the following elements is vital after the initial healing phase:
The timeline
Having a realistic understanding of the timeline for hair growth post-hair transplant is crucial. The timeline of the recovery starts with the implemented hair falling once again to make a way for the new hair to start to grow. For a couple of months, post-surgery the condition of your scalp and hair will begin to improve, and for the results to be visible.
Hair Care and Maintenance
Maintaining the transplanted hair and the general well-being of the scalp requires a thorough hair care routine. This includes avoiding harsh chemicals and styling aids, using mild shampoos, and limiting your exposure to heat from hair dryers and other style appliances. Regular follow-up visits with one of our hair transplant experts are necessary for tracking the development of new hair growth and treating any issues. The surgeon can assess the outcomes and offer advice on continued care at these sessions.
Choosing Queen Clinic for Your Hair Transplant
Are you looking for a reliable and knowledgeable clinic in Turkey that specializes in hair restoration for women? Look nowhere else! Queen Clinic at the heart of Istanbul is committed to providing top-notch hair restoration services that are specially designed for the requirements of the ladies. Invest in yourself and let our well-known clinic handle your hair restoration journey. Discover the difference our knowledge, individualized attention, and outstanding outcomes can make. Make an appointment with us right away to arrange your consultation and explore your options for a refreshed appearance.
Knowledge of female hair restoration
At Queen Clinic, we are proud to have a team of highly qualified and experienced hair transplant doctors. You may be sure that with their experience, you'll get individualized attention and get results that seem natural.
Personalized Treatment Plans
We are aware that every woman's hair loss issue is different. To meet your unique needs and intended objectives, we develop a treatment plan that is individualized based on a careful evaluation of your particular difficulties.
Modern Procedures
With the use of advanced technologies to provide any treatment possible for hair-restoring procedures in women, we continue to be number one in this field. We guarantee exceptional results with the FUE and FUT methods.
Results that are Natural and Appealing
We want to provide you with results that are Natural and Appealing. Our accomplished surgeons pay great attention to hairline design, graft location, and density to make sure that your transplanted hair fits in with your natural hair, giving you a stunning and unified appearance.
Frequently Asked Questions
Simply put, hair transplants, whether performed on men or women, restore natural hair permanently. However, a woman's pattern of hair loss differs slightly from a man's, so you should locate a facility that specializes in this technique.
The transplanted hair from a female hair transplant usually falls out after a few weeks. Though visible benefits can be observed between 6 and 12 months after treatment, new hair growth should begin within a few months. Over time, hair grows and becomes denser, with full effects often being apparent after a year.
Yes, the transplanted hair may be styled like natural hair once it has fully grown and developed. Your transplanted hair may be washed, trimmed, colored, and styled in any way you choose. Your hair loss issues will be permanently addressed by the transplanted hair, which is often permanent and genetically resistant to additional hair loss.