Earlobe Repair In Turkey
at the Queen Clinic in Istanbul leading dental specialists.
Leadership Assessed
Outstanding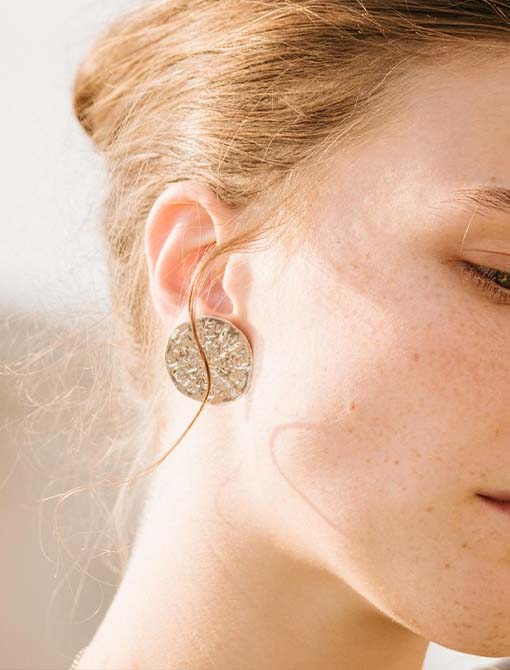 Leadership rated
Outstanding
Surprising results
I had an abdominoplasty 3 months ago and I am very satisfied with the results. I had a lot of flabby skin and stretch marks from pregnancy and childbirth, and the abdominoplasty removed all that and gave me a flat, toned abdomen. I feel much more confident about my body now.
Hortensia Vaccarino, 20 hours ago
I am very happy
I am very happy to share my experience at Queen Clinic in Istanbul. I came from Italy to undergo liposuction and could not be more satisfied with the results.
Olga Torelli, 4 days ago
Very satisfied with the results
I had dental implants 6 months ago and I am very satisfied with the results. I had lost some teeth due to gum disease, and the dental implants restored my smile. I feel much more confident now when I smile.
Gerardo Auletta, 6 days ago
I am more confident
I am very satisfied with the results of my hair transplant. I had been losing my hair for many years and it was starting to affect my self-esteem. I did some research and found a trusted surgeon who performed the procedure. The procedure was quick and painless, and recovery was relatively easy.
Aquilino Presti, 9 days ago
Rated 4.8 / 5 - 361 reviews
Showing our latest reviews
The Latest Technologies
Taking advantage of the most advanced advances, we offer our patients the benefits of cutting-edge diagnoses, treatments and solutions.
Leading Doctors In The Field
We have invited only the best and most experienced consultants and doctors in Turkey to work with us. An unwavering commitment to excellence.
Free Online Consultation
It takes absolutely nothing to get a free online consultation from the best doctors in the world. We have made this process very easy and free for everyone, forever.
Reliable Worldwide
Every year we help more than 4,000 patients from countries such as the United States, Italy, England, France, Germany, Spain, etc. to improve their health and appearance.
Earlobe Repair Surgery At A Glance
Persistence Of Results
A lifetime
Sensitivity Time
2-3 weeks
Time To Return To Work
1 week
Anesthesia
Local Anesthesia
Before And After Earlobe Repair Surgery In Turkey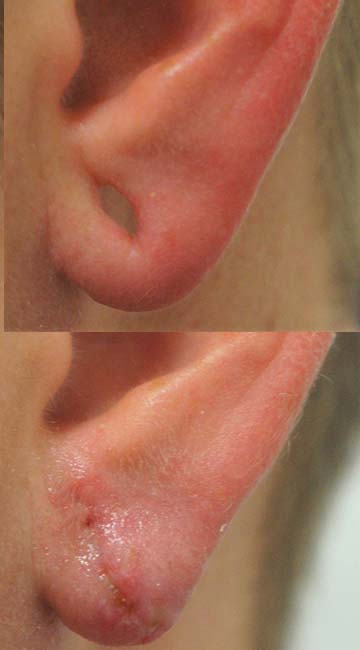 Earlobe Repair Surgery In Turkey – Earlobe Surgery Fix
Earlobe repair surgery is quickly turning into one of the most preferred surgical procedures in Turkey. Each day, there are more and more people arriving at our office to get their earlobes repaired. In certain cases, individuals have even had to wait for months prior to seeking earlobe repair. Some have even removed their heavy earring or gauges, leading to shrunken soft tissue, but still leaving a considerable hole.
What Is Earlobe Repair?
With the passing of time, a pierced earlobe can become elongated in the event that an individual often wears heavy or large earrings. Adding to the creation of wide and long openings, earrings might fully tear through the lobe. A torn earlobe might also be caused by trauma, including an earring caught on clothing or being pulled off.
Queen Clinic is a board-certified plastic and reconstructive clinic based in Istanbul, Turkey, that offers earlobe repair surgery for anyone who is experiencing torn earlobes that need repairing with a swift in-office intervention, conducted under the administration of local anesthesia.
What Concerns Can Earlobe Repair Surgery Fix?
Trends and fashion ebb and flow, but for those that affect our earlobes, our skin didn't exactly get the message. There are typically two main reasons why earlobe repair surgery fix is required: stretching and trauma.
Modern-day earrings have become very heavy and wide. This is in no way good for your earlobe skin. The weight of the earrings can enlarge the natural earring piercing by pulling the earlobe down, to the point where it becomes obvious to others. Earrings are continuously growing in width too, the epitome: gauges. Gauges are discs positioned in the earlobe. If left in the same position for a long while, when removed, the hole they created is unable to close up, meaning surgery is needed.
Trauma comes also as a result of wearing earrings, but this time the really large hoop ones that can get caught on things. You may be simply brushing your hair or taking off your sweater. You may pick up a little child and he/she is so in love with your earrings that he/she starts pulling and grabbing on them. Needless to say, if the earring is pulled or caught on something, it can tear the bottom of the lobe.
What Are The Benefits Of Having Earlobe Repair Surgery?
Having an enlarged earlobe, stretched earlobe, or even one with a large hole mid-it, can be quite distracting for those talking to us. The exact same is true even for those who have suffered from an earlobe tear that hasn't healed evenly or hasn't fully healed at all. Our team will tell you that these are straightforward procedures and thanks to their board-certified surgical skills they are capable of repairing the damaged earlobe with the aim of the incision scar being as inconspicuous as possible. These scars can become fundamentally invisible, very quickly.
Who Would Be A Good Candidate For Earlobe Repair?
Ultimately, eligible candidates for this type of procedure are the ones who have elongated or torn piercing tracts. The tears can be full or partial- that however does not affect the way the procedure is conducted.
Earlobe Repair Surgery
The repair of a torn earlobe initially includes the refreshment of the edge of the lobe torn by getting rid of a small amount of skin. Next, via sutures, the earlobe is finely repaired to restore the rounded, natural earlobe that is fit for your original ear shape.
You will be able to go back home straight away following the surgery, with a small bandage covering the sutures, alone. The removal of the sutures happens after a week to two. Once the earlobe has fully healed and the scar has become less visible, you might re-pierce the repaired earlobe. The recovery period takes approximately three months.
What Kind Of Results Can I Expect After Earlobe Repair Surgery?
Our ears are usually unnoticed… until they are not. Just like it happens with children who have a torn or stretched earlobe or maybe protruding ears, the issue can become quite visible and distracting to other people when they are conversing with you or are close by. Surgical earlobe repair in Turkey with our surgeons will leave nothing but a discreet vertical scar that will become less visible with each week passing.
Around the 10th to 12th week, the earlobe will be fully recovered, and you are allowed to get it pierced again. There is a need however to ensure that the new piercing will be positioned in the scar or just above it seeing as the scar tissue is much weaker than your natural skin, so it can retear with ease. Try to place the new piercing on either side of the scar.
How Will My Recovery Be After Earlobe Repair?
The recovery period for an earlobe repair surgery is relatively short. Our patients are capable of returning home or going back to work right away. The earlobe does not involve any nerves, so the pain is moderate and can typically be controlled with the use of over-the-counter painkillers. You will also be required to apply an antibiotic ointment to the incision, as prescribed. The sutures and stitches usually dissolve by the seventh to the tenth day when the swelling subsides.
Are There Any Risks With Earlobe Repair Surgery?
Earlobe repair surgery is a quite low-risk surgery. Our surgeons conduct the procedure with the use of a local anesthetic and allergies to lidocaine are unusual. As above mentioned, the earlobe does not have any nerve, so there is no risk of losing the function of the ear or place for any other damage to be caused. The main complication or risk might be that of infection, but you will be prescribed an antibiotic ointment. Frequent and neat use of it lessens that risk.
Frequently Asked Questions
Surgery for blepharoplasty requires just minimal preparation. In contrast, it is advised that you stop taking any blood-thinning medications, including aspirin or ibuprofen, two weeks before surgery if you can do so.
No, even if you are awake, you shouldn't feel any of the actual procedure since you will receive a local anesthetic injection shortly before the process. The eyelids may first hurt or feel itchy, but after the injection, they will go numb.
The surgery is not considered painful, but if there is any discomfort pain killer medicine is provided to you. The eyelids can feel sore and painful but this will pass with time as it is considered a normal side effect. The doctor can also advise you to use lubrification eye drops several times during the day if your eyes start to feel dry.