Scar Revision In Turkey
at the Queen Clinic in Istanbul leading dental specialists.
Leadership Assessed
Outstanding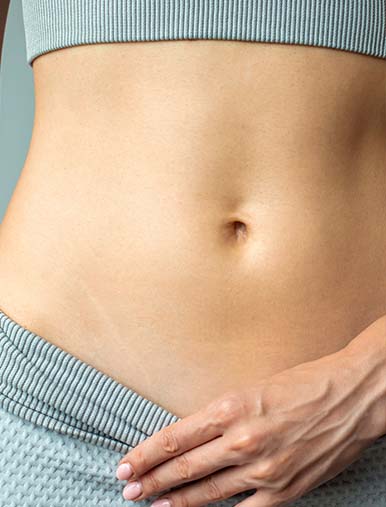 Leadership rated
Outstanding
Surprising results
I had an abdominoplasty 3 months ago and I am very satisfied with the results. I had a lot of flabby skin and stretch marks from pregnancy and childbirth, and the abdominoplasty removed all that and gave me a flat, toned abdomen. I feel much more confident about my body now.
Hortensia Vaccarino, 20 hours ago
I am very happy
I am very happy to share my experience at Queen Clinic in Istanbul. I came from Italy to undergo liposuction and could not be more satisfied with the results.
Olga Torelli, 4 days ago
Very satisfied with the results
I had dental implants 6 months ago and I am very satisfied with the results. I had lost some teeth due to gum disease, and the dental implants restored my smile. I feel much more confident now when I smile.
Gerardo Auletta, 6 days ago
I am more confident
I am very satisfied with the results of my hair transplant. I had been losing my hair for many years and it was starting to affect my self-esteem. I did some research and found a trusted surgeon who performed the procedure. The procedure was quick and painless, and recovery was relatively easy.
Aquilino Presti, 9 days ago
Rated 4.8 / 5 - 361 reviews
Showing our latest reviews
The Latest Technologies
Taking advantage of the most advanced advances, we offer our patients the benefits of cutting-edge diagnoses, treatments and solutions.
Leading Doctors In The Field
We have invited only the best and most experienced consultants and doctors in Turkey to work with us. An unwavering commitment to excellence.
Free Online Consultation
It takes absolutely nothing to get a free online consultation from the best doctors in the world. We have made this process very easy and free for everyone, forever.
Reliable Worldwide
Every year we help more than 4,000 patients from countries such as the United States, Italy, England, France, Germany, Spain, etc. to improve their health and appearance.
Scar Revision At A Glance
Time Of Operation
1-2 hours
Persistence Of Results
A lifetime
Time To Return To Work
2 weeks
Anesthesia
Local Anesthesia
Before And After Scar Revision In Turkey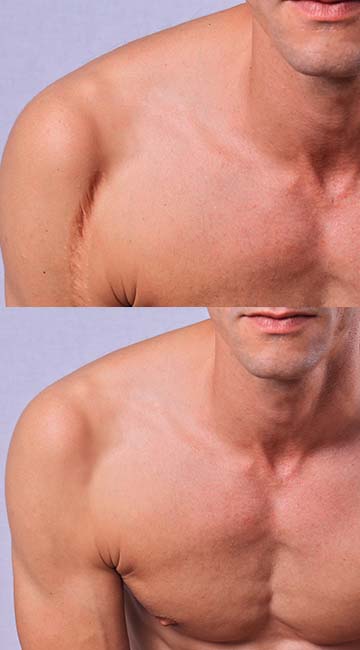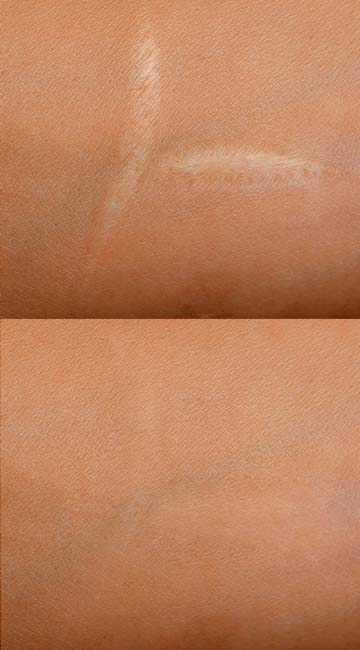 Scar Revision Turkey - Scar Reduction & Removal
The Queen Clinic in Istanbul is the best location to go to if you're considering scar revision surgery in Turkey. We are experts in techniques like scar removal and reduction. Our team of specialists is committed to assisting you in minimizing the appearance of the scars and guiding you in regaining your confidence. We provide you with specialized, innovative methods and the latest technology to achieve the results you desire. Our clinic provides cutting-edge options for scar revision in Turkey, regardless of whether you have acne scars, surgical scars, or other forms of scars. Contact us right now to schedule a consultation and take the first step towards skin that is smoother and flawless.
What is scar revision surgery?
Scars are unavoidable after an injury or surgery, and their progression might be unexpected. Scars that are visible, unattractive, or disfiguring may result from poor healing. Even a well-healed wound might leave a scar that draws attention.
Scar revision surgery is a procedure done to regulate the look of a mark that is left behind after an accident or if you are born with it. It will also help to restore the function of the area that is damaged. The patient should be able to understand that the removal of the scar is not always possible, but the surgery will definitely diminish the look of it and it will be the same as the surrounding skin.
What should I expect during a consultation for scar revision?
If you are considering scar revision surgery, you will first visit one of our specialized facial plastic surgeons for an appointment. You will be asked by our doctors to bring any information relevant to your medical history throughout the years. Another relevant information is if you are under the use of any medication and every information regarding your medical health.
The scar, color of it, thickness, and tenderness will be examined by the specialist at our facility. There are multiple therapies available and you and the doctor will determine the optimal option to address your issue and which potential hazards you should take into account prior to selecting the surgery. The anesthesia that will be employed will be determined by the physician and he will inform you if your health circumstances qualify you as a suitable candidate for this therapy or not.
He will demonstrate to you the location, cost, and potential risks of the surgery. If you have any requests or worries, do not hesitate to show your surgeon any inquiry or worry you may possess regarding the operation. Our physicians will be delighted to answer any questions you need to ask them.
Who is a good candidate for scar revision?
Scar removal may be performed on people of any age, and it is recommended for you if:
The look of your scar is bothering you.
You are in good health.
You do not smoke.
You have realistic expectations about the procedure.
You don't have any present issues with your skin or acne scars.
What are the steps of a scar revision procedure?
The delivery of medicine is the initial stage of the scar revision treatment. Surgery can last from 30 minutes to 1 and a half hours, depending on the size and degree of the scar. As for anesthesia, your doctor will judge and determine the best option for your case, which can vary between the types of different anesthesia options.
To get the greatest effect, a mix of scar revision treatments may be used sometimes. Several available therapies include:
Topical therapies like gels, tapes, or external compression can speed up wound healing as well as decrease the tendency of the skin to create unequal pigmentation. These products can help with the healing process after scar modification treatments as well as the treatment of pre-existing surface scars and discoloration.
IInjectable therapies are another option. In order to cover flat scars, dermal filler might be implemented. The duration of the effects may range from three months to many years, depending on the injectable medication applied and the specifics of your scarring. For lasting outcomes, therapy must be repeated.
Scar aesthetic enhancement is most frequently achieved with surface treatments. These techniques can lessen uneven pigmentation and smooth surface imperfections. Surface treatments are a regulated way to either change the type of tissue or manually remove the top layers of skin.
A mechanical skin smoothing technique is called dermabrasion.
New, healthy skin can grow where the scar is by altering the skin's surface as a result of laser or light treatment.
Chemical peeling agents penetrate the skin's surface to smooth out texture and color abnormalities.
To lighten the skin, medication known as skin bleaching agents are used topically.
What should I expect during my scar revision recovery?
The first healing phase of a surgical scar revision, which can last one to two weeks, may include localized swelling, discoloration, or pain. The new scar will gradually heal for a few weeks. It may take some time before you see the long-lasting results of your scar revision surgery, and in some cases, it may take a year for the new incision to fully heal and fade.
Why choose our clinic for Scar Revision Surgery?
There are various convincing reasons to go for scar revision surgery at the Queen Clinic. Firstly, Turkey has a reputation as a highly requested destination for medical tourism purposes especially in the cosmetic field. It has a lot of qualified and trained plastic surgeons that will offer you the best results possible and you will be in safe hands.
Our clinic in Turkey has cutting-edge facilities and employs cutting-edge technology to get the best possible outcomes. Furthermore, the cost of medical treatments at Queen Clinic is frequently much lower when compared to other locations, making it a cost-effective alternative for people seeking scar revision surgery.
In addition, our clinic places a high priority on patient happiness and adopts a customer-centric approach. The medical personnel in our clinic are known for their expertise, empathy, and commitment to delivering individualized care. At Queen Clinic, we also have bilingual staff members that can effectively interact with foreign patients, delivering a comfortable and easy encounter.
Frequently Asked Questions
As people age, scars minimize and lose some of their visibility. You might be able to put off surgery until the scar's color lightens and this may take months or even a full year. The doctor will recommend you 60 until 90 days for them to operate on your scars.
One of our skilled plastic surgeons and scar experts will carry out the operation for your scar correction. They have years of expertise in plastic surgery and are prepared to help you at any stage of your journey.
After undergoing facial scar revision surgery, it is normal to feel some discomfort; however, your doctor may provide painkillers to help you feel better. Bruising, redness, and edema can be possible after the procedure. Don't panic if your scars get worse after surgery, it is considered normal by the doctor.
The recovery time after the procedure is minimal and the doctor will advise you to return to work as soon as you feel good about it. The recovery process will be followed by the doctor so everything will go smoothly.