Nose Lift In Turkey
at the Queen Clinic in Istanbul leading dental specialists.
Leadership Assessed
Outstanding
Leadership rated
Outstanding
Surprising results
I had an abdominoplasty 3 months ago and I am very satisfied with the results. I had a lot of flabby skin and stretch marks from pregnancy and childbirth, and the abdominoplasty removed all that and gave me a flat, toned abdomen. I feel much more confident about my body now.
Hortensia Vaccarino, 20 hours ago
I am very happy
I am very happy to share my experience at Queen Clinic in Istanbul. I came from Italy to undergo liposuction and could not be more satisfied with the results.
Olga Torelli, 4 days ago
Very satisfied with the results
I had dental implants 6 months ago and I am very satisfied with the results. I had lost some teeth due to gum disease, and the dental implants restored my smile. I feel much more confident now when I smile.
Gerardo Auletta, 6 days ago
I am more confident
I am very satisfied with the results of my hair transplant. I had been losing my hair for many years and it was starting to affect my self-esteem. I did some research and found a trusted surgeon who performed the procedure. The procedure was quick and painless, and recovery was relatively easy.
Aquilino Presti, 9 days ago
Rated 4.8 / 5 - 361 reviews
Showing our latest reviews
The Latest Technologies
Taking advantage of the most advanced advances, we offer our patients the benefits of cutting-edge diagnoses, treatments and solutions.
Leading Doctors In The Field
We have invited only the best and most experienced consultants and doctors in Turkey to work with us. An unwavering commitment to excellence.
Free Online Consultation
It takes absolutely nothing to get a free online consultation from the best doctors in the world. We have made this process very easy and free for everyone, forever.
Reliable Worldwide
Every year we help more than 4,000 patients from countries such as the United States, Italy, England, France, Germany, Spain, etc. to improve their health and appearance.
Nose Lift At A Glance
Time Of Operation
2-4 hours
Persistence Of Results
A lifetime
Sensitivity Time
3-15 days
Time To Return To Work
3 weeks
Anesthesia
General Anesthesia
Before And After Nose Lift In Turkey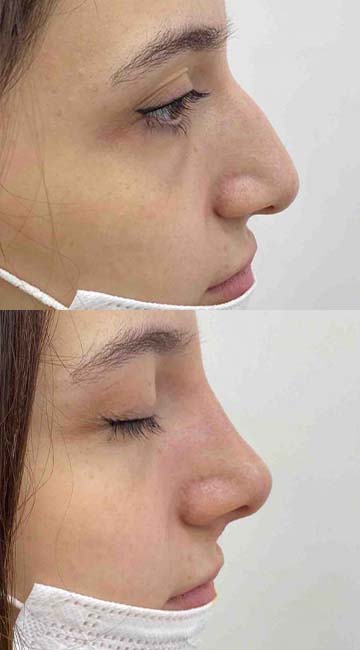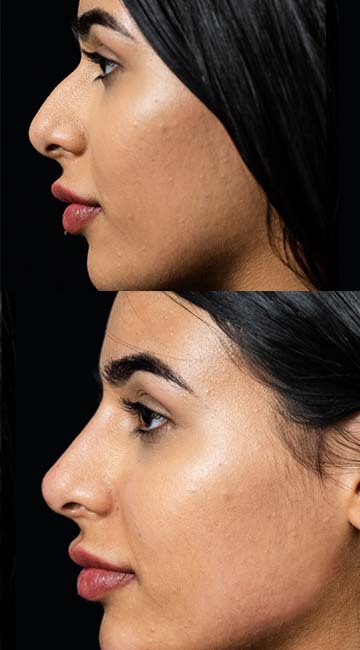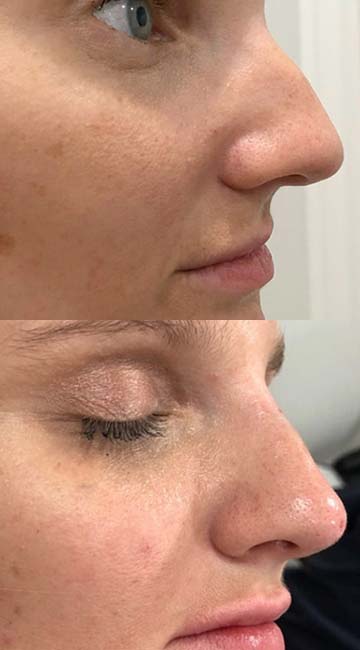 Nose Tip Lift Turkey – Nose Suspension Procedure
The cosmetic and plastic surgery world is ever-changing. A few things (not all, but only a few) that were up-to-date ten years ago might as well be very outdated today- that's the fast pace at which things move. A great instance of this is the renewed and enhanced "nose tip lift" procedure in Turkey. Nose jobs have been a thing for a hundred years now- bet you were unaware of the fact that the very first nose job dates back to 1887- so needless to say, the techniques and methods have altered a lot. The nose tip lift or nose suspension is the next great step in rhinoplasty's evolution.
What is Nose Tip Rhinoplasty?
Nose tip rhinoplasty is a nasal procedure that reshapes the tip of the nose.
The operation is most suited to patients who have good bone structure and do not want to drastically change the appearance of their nose but instead are seeking slight improvements. This includes lifting the tip of the nose, correcting deformity, or addressing the length of the nose.
Performed under local anesthesia in a clinical environment, nose suspension is a painless procedure that takes approximately 15 minutes to complete. The patient is left without scarring and full healing time is expected within three weeks, making it a popular choice for anyone seeking to improve the appearance of their nasal tip.
Surgical rhinoplasty is a much more invasive procedure than both rhinoplasty suspension and non-surgical rhinoplasty. A particular rhinoplasty technique called rhino-tip surgery changes the shape of the nose by modifying the structure of the underlying cartilage, creating the perfect nasal tip. However, this is expensive, invasive, and involves more downtime than a nose tip lift. A nose suspension is also a much quicker procedure than nose surgery, which can take upwards of an hour.
Why do people have it?
Nose tip lift rhinoplasty is a preferred alternative among people who are in search of a change in the appearance of the tip of their nose. There are several factors that affect this:
Comfortable - A nose tip lift procedure is quite straightforward, lasting only 15 minutes. Meaning, the procedure can easily be finished during your lunch break.
Secure - Risks and complications regarding this procedure are very unlikely to happen.
Efficacious - Generates visible enhancement to the nose's tip.
Immediate results - The new shape will be noticeable right away.
No downtime - You can go back to your day-to-day activities immediately.
No anesthesia - There are no risks or complications related to anesthesia.
How does it work?
A nose tip lift is a quite direct and efficacious procedure to lift a slump tip, shrink a far-too-long nose or simply improve a person's side profile. Involving no incision and being minimally intrusive, the procedure leaves no scars behind. Differently for surgical rhinoplasty, a nose lift necessitates no nose splint or broken bones.
Prior to undergoing a nose suspension procedure, you will be presented with 3D images that illustrate the new form and outcomes of it.
To set into its new shape the nose needs three weeks. Throughout the healing process, you will be requested to wear a dressing that covers the nose which should be maintained in place for four to five days following the nose lift. Such dressings aid in protecting the new shape of the nose.
Experiencing any swelling, discomfort, or pain after a nose tip lift procedure is hardly likely. And even in the event of any minor to mild pain, you are enabled to take over-the-counter painkillers.
Following all aftercare guidelines as given by your surgeon is crucial to assist in the healing process and to maintain the nose tip in its new position.
Frequently Asked Questions
Seeing as there is no intervention with the bones and because of the fact that the procedure is quite quick, nose suspension is a painless operation. Any risen pain is easily manageable with painkillers.
Mini holes are created through injections rather than being made by incisions, so there will be no scarring left.
The recovery period is markedly swift. It is to be noted that dressing must be kept in its initial position for five days and you must be cautious to prevent any trauma to the face throughout this time as this may lead to the nose collapsing. The best thing to do would be to avoid any activity that increases blood pressure including such as strenuous exercise or sexual activity. You will be further advised by your surgeon on this. Your nose will recover fully in three weeks.
The results of a nose tip lift procedure can be instantly seen. And yes, the nose suspension procedure generates permanent results.
Yet, you must be vigilant during the first two weeks following the procedure. Throughout this period, if the fragile threads that hold up the tip are broken, the nose will collapse or drop, and the nasal tip will revert back to its pre-operative position. A supplementary procedure would be necessary to re-establish the nose's tip.
By the end of three weeks, the nose should be already in its new position and will be remaining there, even if the threads end up getting broken.
A nose suspension procedure is not suitable for patients under the age of 18 since their body hasn't fully developed yet. If in need of a more large-scale nose reshaping or of help to grapple with problems like breathing issues coming as a result of a deviated septum, the best solution for you would ultimately be a surgical nose job.
Nose tip lift results are permanent, so if you are not sure yet whether to jump into it or not, it might be worth deciding on non-surgical rhinoplasty so you can "test-drive" a brand new nose tip initially. A non-surgical nose job is not an everlasting solution and fortunately, it can be revoked.