Hair Transplantation In Turkey
A Queen Clinic, a leading hair transplant clinic in Istanbul, Turkey
Leadership Assessed
Outstanding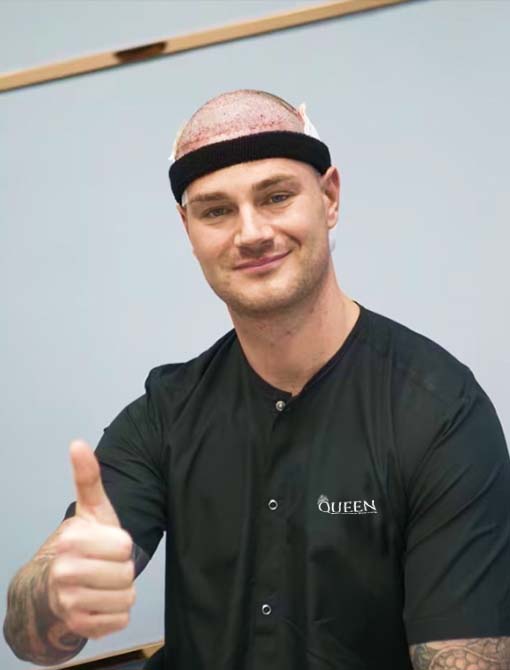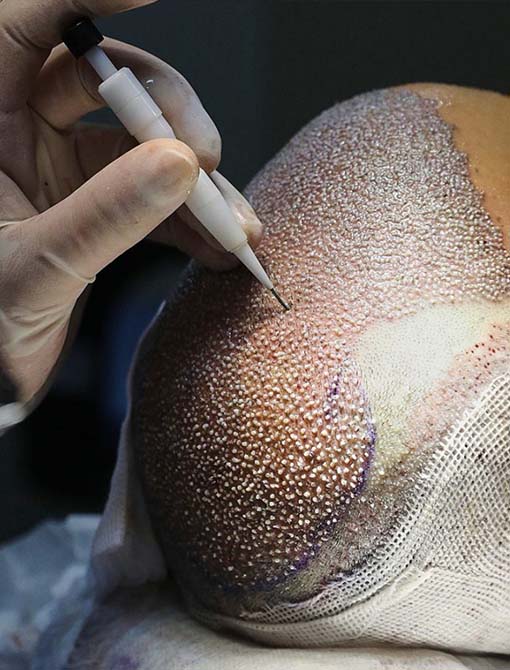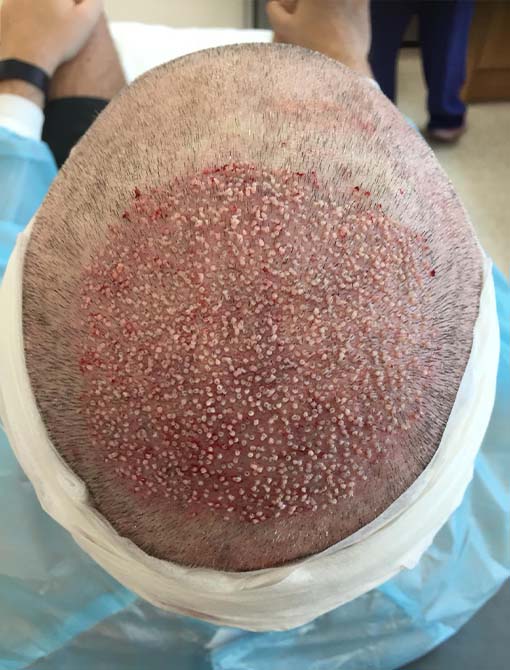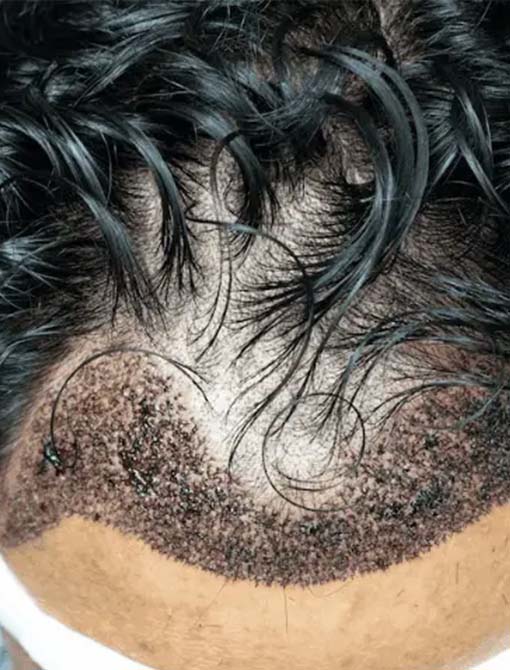 Leadership rated
Outstanding
Surprising results
I had an abdominoplasty 3 months ago and I am very satisfied with the results. I had a lot of flabby skin and stretch marks from pregnancy and childbirth, and the abdominoplasty removed all that and gave me a flat, toned abdomen. I feel much more confident about my body now.
Hortensia Vaccarino, 20 hours ago
I am very happy
I am very happy to share my experience at Queen Clinic in Istanbul. I came from Italy to undergo liposuction and could not be more satisfied with the results.
Olga Torelli, 4 days ago
Very satisfied with the results
I had dental implants 6 months ago and I am very satisfied with the results. I had lost some teeth due to gum disease, and the dental implants restored my smile. I feel much more confident now when I smile.
Gerardo Auletta, 6 days ago
I am more confident
I am very satisfied with the results of my hair transplant. I had been losing my hair for many years and it was starting to affect my self-esteem. I did some research and found a trusted surgeon who performed the procedure. The procedure was quick and painless, and recovery was relatively easy.
Aquilino Presti, 9 days ago
Rated 4.8 / 5 - 361 reviews
Showing our latest reviews
The Latest Technologies
Taking advantage of the most advanced advances, we offer our patients the benefits of cutting-edge diagnoses, treatments and solutions.
Leading Doctors In The Field
We have invited only the best and most experienced consultants and doctors in Turkey to work with us. An unwavering commitment to excellence.
Free Online Consultation
It takes absolutely nothing to get a free online consultation from the best doctors in the world. We have made this process very easy and free for everyone, forever.
Reliable Worldwide
Every year we help more than 4,000 patients from countries such as the United States, Italy, England, France, Germany, Spain, etc. to improve their health and appearance.
Turkey Hair Transplantation At a Glance
Time Of Operation
5-6 Hours
Persistence Of Results
A Lifetime
Sensitivity Time
3-15 Days
Time To Return To Work
3 Days
Anesthesia
Sedation And Local Anesthesia
Before And After Hair Transplant Turkey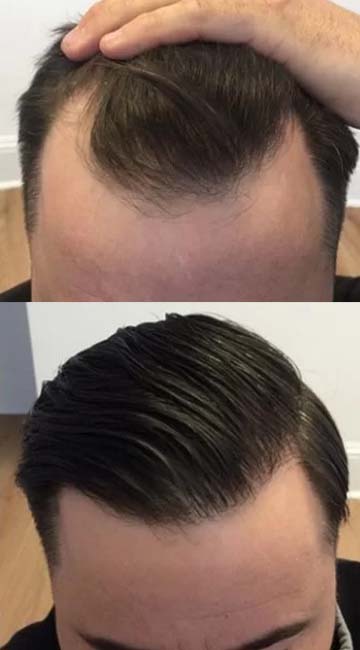 Hair Transplant Turkey: Queen Clinic in Istanbul
If you are looking for a reliable and affordable solution for your hair transplant, the Queen Clinic in Istanbul, Turkey, is the ideal destination. In this article, we will provide you with a comprehensive guide on everything related to Turkey hair transplantation and convince you why Queen Clinic is the best choice for you.
Why Choose a Hair Transplant Turkey?
Hair transplant surgery has become a popular option for those who wish to restore their hair and self-confidence. Although many destinations around the world offer this procedure, Istanbul, Turkey, stands out as a top choice for several compelling reasons:
1. Medical Excellence
Istanbul boasts world-class medical facilities and highly qualified surgeons specializing in hair transplant procedures. Many Turkish clinics meet international medical standards and have extensive experience in the field. The combination of expertise and advanced technology ensures high-quality results.
2. Affordability.
One of the most significant advantages of opting for a hair transplant in Istanbul is the affordability. Costs in Turkey are significantly lower than in many Western countries without compromising quality. You can get excellent results at a fraction of the cost, making it an attractive option for those seeking maximum value.
3. Experience and Expertise
Turkey has a long tradition in the field of hair transplantation, with thousands of successful procedures performed annually. This experience has resulted in extensive knowledge and refined techniques, ensuring that patients receive the best possible care.
4. Advanced Techniques
Istanbul is at the forefront of hair transplant technology, offering the latest advances in the field. Techniques such as Follicular Unit Extraction (FUE) are widely practiced, allowing faster recovery and natural-looking results. Istanbul clinics invest in state-of-the-art equipment to ensure patient comfort and satisfaction.
5. Multilingual Staff
Istanbul is a center for medical tourism, attracting patients from all over the world, including Italy. Many clinics in Istanbul have multilingual staff, including practitioners who speak Italian, which facilitates communication and improves the overall experience for international patients.
6. Hospitality and Comfort
Patients traveling to Istanbul for a hair transplant can expect a high level of comfort and hospitality. Many clinics offer comprehensive packages that include lodging in luxury hotels, transfers to and from the airport, and personalized assistance throughout the process.
7. Proven Track Record
Istanbul has earned a reputation as a global leader in hair transplant procedures, with countless satisfied patients from around the world. Clinics in the city often provide before-and-after photos, as well as testimonials, showing their successful results.
8. Cultural Experience
Choosing Istanbul for your hair transplant also offers the opportunity to explore a beautiful and historic city. Istanbul is famous for its rich culture, world-renowned monuments, and delicious cuisine, making your trip not only a medical procedure, but also a memorable experience.
In conclusion, selecting Istanbul for your hair transplant is a wise decision. With its medical excellence, affordability, experienced professionals, advanced techniques, and a multitude of satisfied patients, Istanbul offers a winning combination for those seeking a reliable and effective hair restoration solution. Consider Istanbul as your destination for a successful Turkey hair transplant journey.
Turkey Hair Transplant for Italian Patients: How It Works
If you are an Italian patient interested in a Turkey hair transplant, it is important to understand how this process works. Here we will explain the key steps to help you understand the process and what to expect.
1. Initial Consultation.
Your journey to a new look begins with an initial consultation. The Queen Clinic in Istanbul, Turkey, offers consultation services in Italian. During this phase, you can discuss your specific needs and goals with our highly qualified medical team. The consultation is an opportunity to get answers to your questions and plan your transplant according to your individual needs.
2. Trip Planning
Once you have agreed on your treatment plan, you will need to make your travel arrangements to Turkey. The Queen Clinic offers assistance with flight reservations and luxury hotel accommodations in Istanbul, ensuring that your stay is comfortable and stress-free.
3. Transplantation Day
Transplant day is an important step. The procedure begins with the extraction of hair follicles from the donor area, usually the nape of the neck. These follicles will then be carefully transplanted into the bald or thinning area. The Queen Clinic uses the most advanced technique, called FUE, which offers faster recovery and natural-looking results.
4. Post-Operative Recovery.
After the procedure, you will follow our medical team's instructions for postoperative recovery. It is important to pay attention to these directions to ensure optimal results. During the recovery period, you will have the full support of the Queen Clinic staff for any questions or concerns.
5. Return to Italy.
After the recovery period, you will be free to return to Italy with your new hair. It is important to note that the final results of hair transplantation take time to fully manifest, so you will need to be patient while your hair grows and stabilizes.
6. Follow-up and Continuing Care
The Queen Clinic offers ongoing care, even after your return to Italy. You can maintain contact with our medical team and share your concerns or questions regarding your progress.
In short, Turkey hair transplantation for Italian patients is a well-structured and accessible process. With Queen Clinic, you will receive high-quality treatment, facilitated recovery, and renewed confidence in your hair. Please feel free to contact us for more information or to schedule your initial consultation. We are here to help you achieve your beauty goals and provide you with a positive and rewarding hair transplant experience in Turkey.
Some of the Best Methods of Hair Transplantation and Their Benefits
Hair transplantation is an effective solution to restore hair density and achieve a natural appearance. Here we will review some of the best hair transplantation techniques, excluding the FUT method, and the advantages they offer:
1. FUE (Follicular Unit Extraction) Hair Transplantation.
Benefits:
Minimal Invasiveness: The FUE method involves the individual extraction of individual hair follicles, which means less trauma to the scalp and faster recovery.
Natural Appearance: The results of FUE tend to be very natural, as follicles are transplanted one by one, creating a uniform and harmonious appearance.
No Linear Scarring: Unlike FUT, FUE does not leave a linear scar on the scalp, making it ideal for those who wish to wear their hair short or shaved.
Less Bleeding and Pain: Because the procedure is less invasive, there is less bleeding and pain during and after surgery.
2. DHI (Direct Hair Implantation) Hair Transplantation.
Benefits:
High Accuracy: DHI involves the use of a special transplant pen that allows precise control in the position and angle of follicle insertion, ensuring highly accurate results.
Fast Recovery: Due to the minimally invasive nature of the procedure, the recovery phase is short, and many patients can return to their daily activities within a few days.
Lower Risk of Follicle Damage: Because the follicles are handled with extreme care, the risk of damage is greatly reduced, which results in increased survival of the transplanted follicles.
3. Manual FUE Hair Transplantation
Benefits:
Precise Manual Control: Manual FUE hair transplantation involves the use of hand tools, allowing precise control in the selection and extraction of follicles, which is particularly useful in cases where precision is required.
Surgeon's Experience: Because the procedure requires significant manual skill, it is often performed by experienced surgeons who can tailor the transplant to the patient's needs.
In conclusion, these hair transplantation techniques offer numerous advantages that can fit patients' individual needs. While FUE, DHI, and manual FUE hair transplantation are considered among the best methods, it is important to consult an experienced surgeon to determine which option is best suited to your specific condition and goals.
Cost of Hair Transplantation in Turkey and the Reasons for its Affordability
The cost of Turkey hair transplant is considerably more affordable than in many other countries, making the country a popular destination for those seeking an affordable solution for hair loss. Here are some reasons why hair transplantation in Turkey is so affordable:
1. Reduced Operating Costs
Operating expenses in Turkey are generally lower than in many European and North American countries. This includes costs such as medical staff salaries, facility rent, and clinic overhead. Reducing these costs contributes to a more affordable rate for patients.
2. Favorable Exchange Rate
The exchange rate between the Turkish currency (the Turkish lira) and many foreign currencies is often favorable for foreign visitors. This means that your money has more purchasing power in Turkey, which translates into lower overall costs for hair transplantation.
3. Competition Between Clinics
Turkey is home to a large number of clinics specializing in hair transplants, and this competition means that clinics try to attract patients by offering competitive prices. This competition is an advantage for patients who can compare options and choose the one best suited to their needs.
4. Qualified and Experienced Workforce
Turkey has extensive experience in the field of hair transplantation, with thousands of procedures performed each year. Skilled manpower and experience accumulated over the years enable clinics to provide high-quality services at lower costs.
5. Investment in Advanced Technology
Despite lower operating costs, many clinics in Turkey invest in state-of-the-art technology to ensure high-quality results and maximum patient comfort. This balance between operational efficiency and advanced technology helps keep costs affordable.
6. Government Support
The Turkish government has been actively promoting medical tourism, including hair transplantation, by providing incentives to clinics and facilitating the process for international patients. This support contributes to overall convenience.
In conclusion, the cost of Turkey hair transplantation is significantly lower than in other destinations due to a combination of low operating costs, a favorable exchange rate, competition among clinics, experienced labor force, and government support. This affordability does not compromise the quality of treatment, making Turkey an attractive choice for those seeking an effective and affordable solution to hair loss.
The cost of a hair transplant in Turkey can vary depending on several factors, including the clinic, the specific procedure, and the number of grafts needed. On average, hair transplant prices in Turkey are generally more affordable than in many other countries. Here is a rough estimate:
FUE (Follicular Unit Extraction): Prices for FUE can vary from. €1.500 a €3.000 or more, depending on the clinic and the number of grafts required.
DHI (Direct Hair Implantation): DHI tends to be slightly more expensive, with prices ranging from. €2.000 a €4.000 or more, depending on the number of grafts.
It is important to keep in mind that although cost is a factor to consider, choosing a reputable clinic with experienced surgeons is critical for safe and satisfactory results.
Queen Clinic: Excellence in Hair Transplantation in Turkey
Queen Clinic has risen to the top of Turkey hair transplant clinics due to a unique combination of factors that make it the undisputed choice for patients seeking exceptional results. Let's delve into why Queen Clinic consistently earns acclaim as the best:
1. Pinnacle of Medical Excellence
Queen Clinic is a beacon of medical excellence. Our clinic is a sanctuary of expertise, with a team of experienced surgeons who are masters in the art of hair transplantation. Our professionals are constantly on the cutting edge of the latest innovations, ensuring that our patients receive nothing less than extraordinary medical care.
2. Art in Technique
We pride ourselves on the art of hair transplantation techniques at Queen Clinic. Our focus revolves around the precise mastery of Follicular Unit Extraction (FUE) and Implantation Direct Hair (DHI). These state-of-the-art techniques give our patients an unparalleled gift of precision, minimal scarring and results that blend seamlessly with nature itself.
3. A World of Communication
Recognizing the heterogeneous fabric of our patient community, the Queen Clinic boasts a multilingual cast of experts, including professionals who speak Italian proficiently. We believe that communication is the bridge to comfort, ensuring that international patients feel not just heard, but truly understood during their transformational journey.
4. Guardians of Security and Purity
The sacred principles of patient safety and unwavering hygiene are engrained in Queen Clinic's ethics. We don't just meet standards; we define them. Our commitment to safety not only ensures flawless results, but also provides a haven of peace of mind for patients during their transformation procedures.
5. The Complete Journey
Queen Clinic offers a comprehensive experience. Our comprehensive packages embrace every aspect of your transformation, from initial consultation to post-operative care. We weave together travel arrangements, luxury facility accommodations, smooth transfers and a symphony of personalized attention to create a truly carefree experience for our international clients.
6. A Symphony of Success
Our walls resound with the symphony of success. The Queen Clinic gallery proudly displays numerous before-and-after stories, accompanied by the moving testimonials of our patients. These real-life metamorphoses are a testament to our perseverance in delivering outstanding results.
Patient Testimonials: Voices of Satisfaction
Our patients are our storytellers. They don't just express satisfaction; they shout it from the rooftops. Their journey with the Queen Clinic is a crescendo of joy in results, care, and overall experience:
"The Queen Clinic has transformed not only my hair, but also my self-confidence. The results are truly amazing, and I couldn't be happier." - Marco S., Italy
"From the moment I arrived in Istanbul until the last checkup, the Queen Clinic team made me feel like a king. Their professionalism and warmth are unsurpassed." - Elena M., Spain
"I did my homework before choosing Queen Clinic, and the decision paid off. The results exceeded my expectations, and I highly recommend her to anyone considering a hair transplant." - Luke G., Switzerland
In conclusion, the Queen Clinic embodies the pinnacle of the Turkey hair transplant, an oasis where medical artistry, precision, cultural inclusiveness, safety, comprehensive care, affordability, and ecstatic patient testimonials combine to create an unparalleled experience. For those seeking the ultimate path to a natural, lasting, and deeply satisfying hair transformation, the Queen Clinic reigns supreme.
Why Do People Undergo Hair Transplantation?
People choose to undergo a hair transplant for a variety of reasons. Here are some of the most common reasons:
To Restore Self-Reliance: Hair loss can negatively affect self-confidence and self-esteem. Hair transplantation offers an opportunity to restore a more youthful appearance and to feel better about yourself.
To Improve Appearance: Many people consider hair an important element of their personal aesthetics. Hair transplantation can improve overall appearance by making hair denser and well distributed.
Coping with Baldness: Baldness is a common problem among men and some women. Hair transplantation is an effective solution to deal with hair loss and get a full head of hair.
To Reduce the Influence of Aging.: Hair loss is often associated with aging. Hair transplantation can help reduce the visible signs of aging, restoring a more youthful appearance.
To Solve Health Problems: In some cases, hair loss may be caused by underlying health problems. Hair transplantation can help solve these problems and improve overall hair health.
For a More Masculine or Feminine Appearance: Some people desire a more masculine or feminine appearance, and hair transplantation can help achieve this by improving the shape and line of the hair.
Coping with Hair Loss Due to Medical Procedures.: Some medical treatments, such as chemotherapy, can cause hair loss. After such treatments end, many people choose hair transplantation to restore their hair.
Hair Transplantation in Istanbul, Turkey: 100% Safe
Istanbul is the safest destination for hair transplantation. Here's why:
World Experts: Istanbul's best clinics are world-renowned, with highly qualified teams of experts.
Advanced Technology: Istanbul adopts cutting-edge technologies such as the FUE and DHI, ensuring precise and natural results.
Intransigent Hygiene: Strict hygienic standards are followed to ensure a sterile and safe environment for the procedure.
Vast Experience: Istanbul has been a leader in hair transplantation for many years, with thousands of successful cases.
Multilingual Assistance: Clinics understand the needs of international patients and offer care in Italian, ensuring smooth communication.
Choose Istanbul for hair transplantation: 100% safety for exceptional results.
Who Is Not Suitable for a Hair Transplant?
Not everyone is suitable for a hair transplant. It is important to understand which categories of people may not be suitable for this procedure. Here are some cases in which a hair transplant may not be the best choice:
Donor Shortage: If you do not have a sufficient amount of donor hair on your head or other parts of your body, you may not be able to perform a successful hair transplant.
Underlying Medical Problems: Patients with serious medical problems such as uncontrolled heart disease, unmanaged diabetes, or bleeding disorders may not be eligible for hair transplantation because of the risk to their health.
Age Too Young: Hair transplants are often recommended for patients older than 25-30 years when hair loss has stabilized. In some cases, younger patients may not be appropriate candidates.
Unrealistic Expectations: If the patient's expectations are unrealistically high or if they do not fully understand the expected results, it may be better to explore alternatives or wait for further consultation.
Scalped Conditions Not Negotiable: Some scalp conditions, such as severe dermatitis or deep scarring, can make hair transplantation difficult.
Psychological Problems: Patients with severe psychological problems or unresolved emotional aspects may not be ideal candidates, as the procedure requires adequate emotional preparation.
Pre-existing Serious Medical Conditions: Patients with serious preexisting medical conditions that could interfere with the healing process or increase the risk of complications may not be suitable.
It is critical to discuss your individual condition and expectations with a hair transplant surgeon to determine if you are a suitable candidate for the procedure. Medical advice is crucial to ensure an informed and safe decision regarding Turkey hair transplantation.
The Risks of Hair Transplantation: The Importance of Choosing a Professional Clinic
When considering a hair transplant, it is crucial to understand the potential risks, especially if you opt for an unprofessional or inexperienced clinic. Some risks include:
Infection: Inadequately managed clinics may increase the risk of infection at donor or recipient sites.
Scars: Inadequate techniques can lead to obvious scarring, especially with dated methods.
Irregular Growth: Inexperienced hands can cause irregular or unnatural hair growth.
Fall Shock: Poor procedures can cause existing hair to fall out temporarily, known as "shock hair loss."
Unnatural Results: Amateur surgeons may produce unnatural or overdone results.
Complications: Clinics without appropriate expertise may not effectively manage complications.
To minimize these risks, choosing a professional and highly reputable clinic with experienced surgeons is critical. Your choice of clinic significantly affects the safety and success of your hair transplant. Queen Clinic is an Italian agency with Italian staff and we offer our patients a full lifetime guarantee, unlike other clinics.
What Causes Hair Loss?
Hair loss can be caused by several reasons, and it is important to note that it cannot always be treated with a hair transplant. Here are some of the most common causes of hair loss:
Genetic Predisposition: Heredity is one of the most common causes of hair loss, known as androgenetic alopecia. This condition can affect both men and women.
Aging: Hair loss is often a natural process related to aging. Hair growth can become slower and less dense as the years go by.
Disease Medical Conditions: Medical conditions such as diabetes, thyroid problems or dermatitis can contribute to hair loss.
Stress: Physical or emotional stress can cause temporary hair loss. The condition is known as telogen effluvium.
Drugs: Some drugs, such as those used for chemotherapy or to manage medical conditions, can cause hair loss as a side effect.
Lifestyles and Nutrition: A diet low in essential nutrients or unhealthy lifestyle habits can affect hair health.
Alopecia Areata: This is an autoimmune disease that causes sudden hair loss in small patches.
Physical Trauma: Scalp injuries, such as burns or scars, can cause permanent hair loss in the affected area.
Traction: Hairstyles that are too tight or excessive use of hairstyles that pull on the hair, such as braids, can cause hair loss.
Nutritional Deficiency: Deficiency of key nutrients such as iron, protein or vitamins can affect hair health.
What to Expect Before and After a Successful Hair Transplant
Before Hair Transplant Turkey:
Counseling: Your journey begins with a consultation by a hair transplant specialist. During this phase, you will discuss your goals, medical history, and assess your suitability for the procedure.
Treatment Plan: Based on the consultation, the surgeon will create a customized treatment plan tailored to your needs, including the number of grafts needed and the technique chosen (e.g., FUE or DHI).
Pre-Procedure Instructions: You will receive specific instructions on how to prepare for the procedure, including guidelines on medications, alcohol, smoking and dietary restrictions.
Medical Evaluation: In some cases, you may undergo a medical evaluation, including blood tests, to ensure that you are healthy for surgery.
Shaving: Depending on the technique and the area to be treated, it may be necessary to shave or cut the hair before the procedure.
After a Successful Hair Transplant:
Immediate Recovery Phase: Immediately after the procedure, you may experience swelling, redness and mild discomfort in the treated area. These symptoms are normal and usually disappear within a few days.
Drugs: You will be prescribed medications, including painkillers and antibiotics, to manage the discomfort and prevent infection.
Post-Procedure Care: Detailed postoperative care instructions will be provided, including the proper way to clean and care for the transplanted area.
Return to Normal Activities: Most patients can resume daily activities within a few days, but it is advisable to avoid strenuous exercise and sun exposure for several weeks.
Hair Growth: Over the next few months, you will notice gradual hair growth in the transplanted area. It may take up to a year to see full results.
Control Appointments: You will have follow-up appointments with your surgeon to monitor progress and address questions or concerns.
Increased Confidence: As new hair grows, you are likely to experience a significant increase in confidence and satisfaction with your appearance.
Long-Term Results: A successful hair transplant can provide long-term results, giving you a natural-looking, thicker head of hair for many years to come.
Remember that individual experiences may vary, and it is crucial to follow your surgeon's instructions for a smooth recovery and optimal results. A successful hair transplant can be a life-changing surgery, helping you regain not only your hair but also your self-confidence.
Reviews on hair transplantation in Turkey can be an important reference point for those considering this procedure. However, it is crucial to consider only reviews from reputable sources, such as clinic websites, medical forums, or authoritative review platforms.
Frequently Asked Questions Hair Transplant Turkey
A hair transplant is a surgical procedure that involves taking healthy hair from a donor area and implanting it into a bald or thinning area.
Turkey is renowned for high-quality clinics, experienced surgeons, and more affordable costs than other countries.
Common techniques include FUE (Follicular Unit Extraction), DHI (Direct Hair Implantation) and manual FUE technique.
Costs vary by clinic and technique, but are generally cheaper than in many other countries.
Here is a rough estimate:
FUE (Follicular Unit Extraction): Prices for FUE can vary from. €1.500 to €3,000 or more, depending on the clinic and the number of grafts required.
DHI (Direct Hair Implantation): DHI tends to be slightly more expensive, with prices ranging from. €2.000 a €4.000 or more, depending on the number of grafts.
The procedure is generally well tolerated, and local anesthetics are administered to minimize discomfort.
The growth of transplanted hair is gradual. It may take 6 months to a year or more to see full results.
As with any medical procedure, there are potential risks, but choosing a professional clinic can minimize them.
Most patients can return to daily activities within a few days, but it is advisable to avoid strenuous exercise and sun exposure for a few weeks.
Yes, the results may be permanent, but maintaining good hair health is important.
Ideal candidates are usually people with stable hair loss and good general health. A medical evaluation will determine individual suitability.